Phone: 312.593.3253. email: info@TrimlineCustomDesigns.com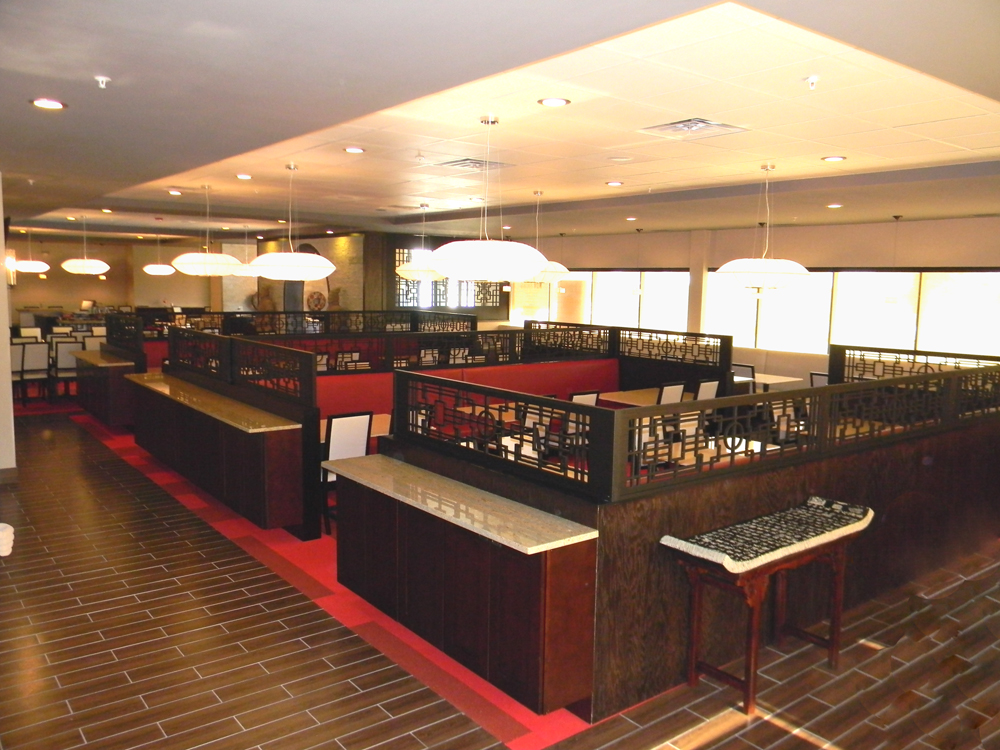 Yus Mandarin Restaurant Westmont. Supplied Shoji panels, cashier station, Hostess Station, Liquor Display, and bathroom partitions. For Eden Jung at T2 Construction.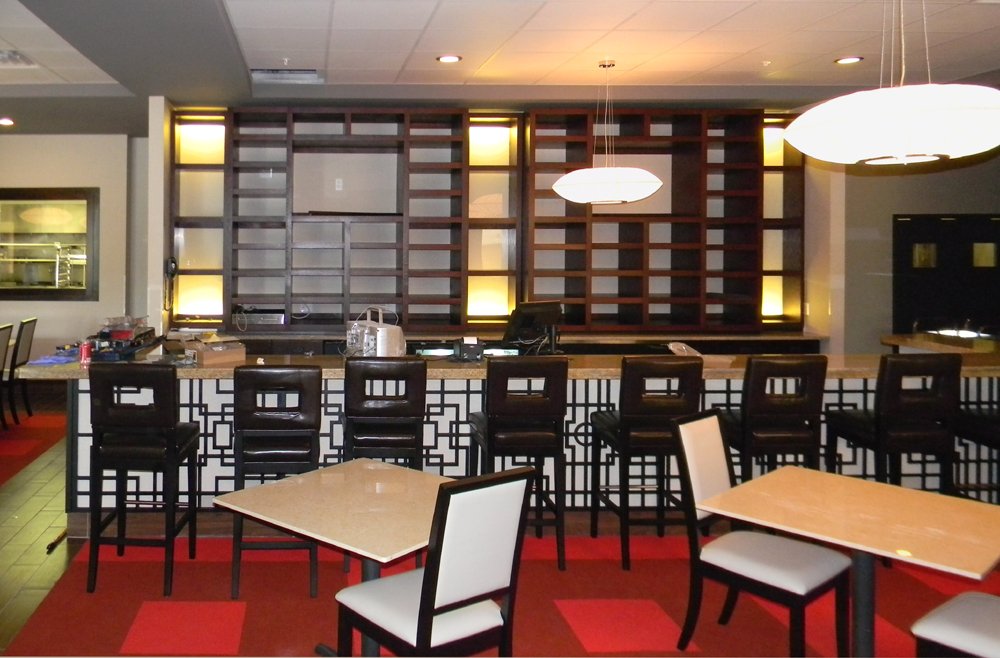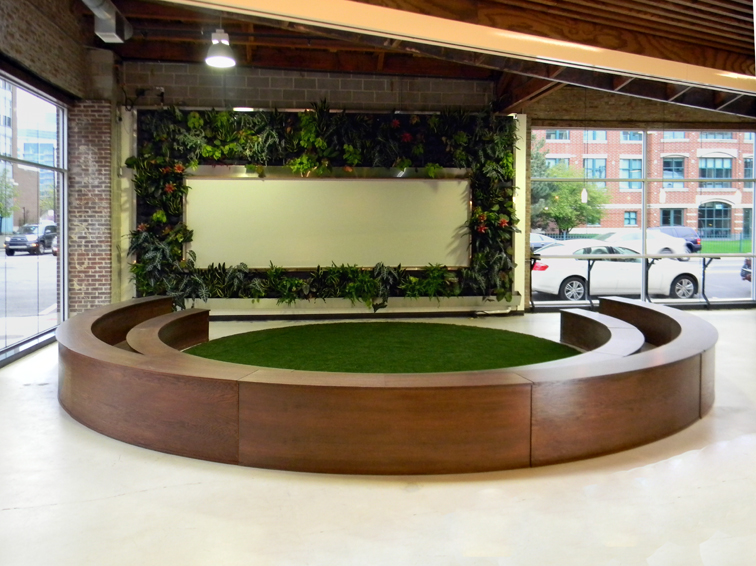 26 foot Bleachers in 8 movable sections. For Eden at T2 Construction.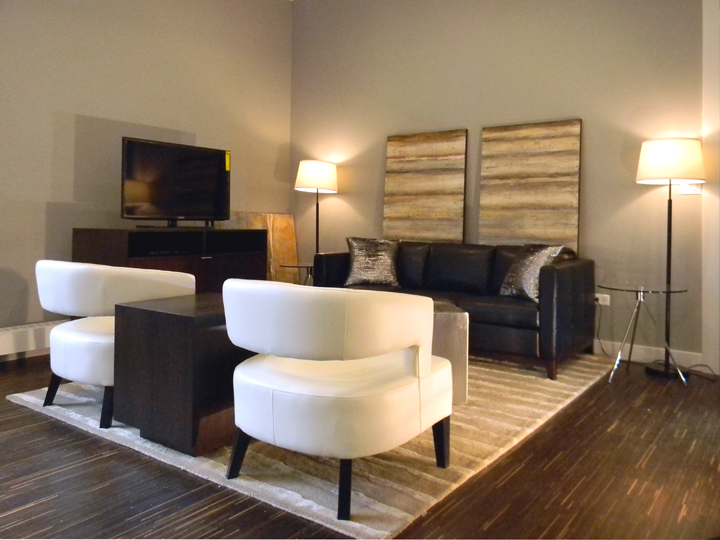 One Superior Leasing office and Management Office for Loren Stanton, Stantonic Interiors.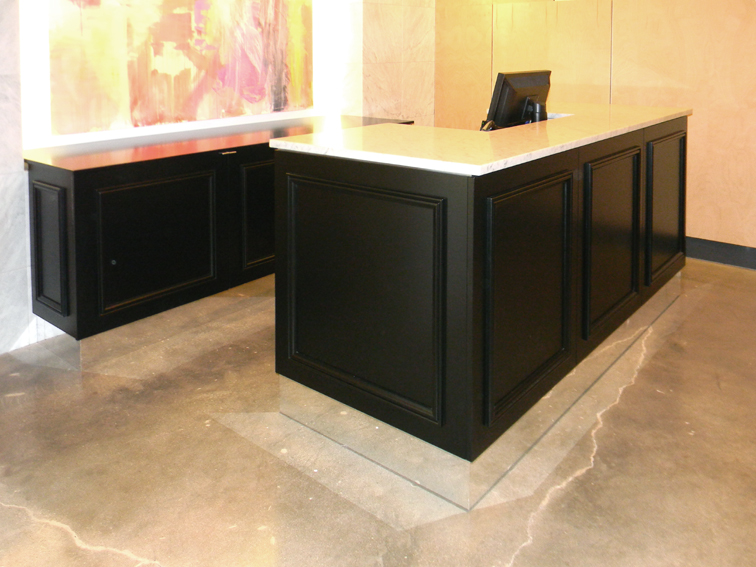 Cash Wrap and Back Counter/Cabinetry for The Edit Boutique in Bucktown. (On Damon, just south of Armitage). Trimline also supplied Bronzed Metallic Clothes hanging hardware, and full wall mirrors for their dressing rooms.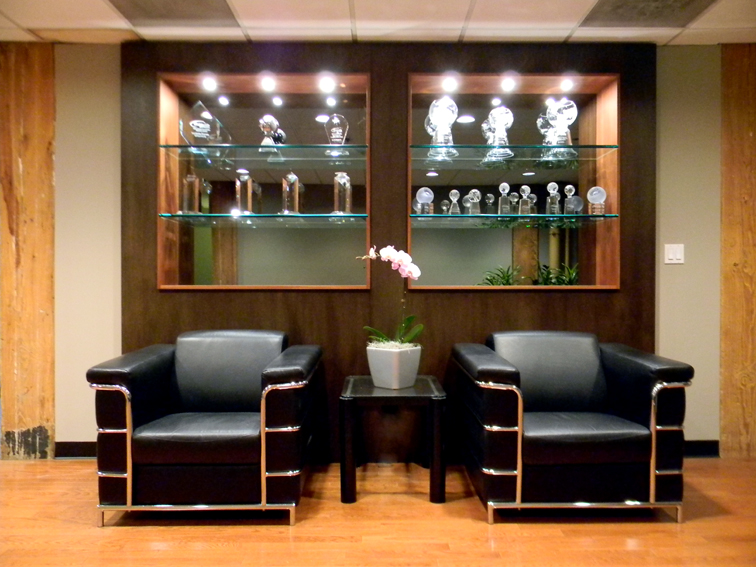 Display in Mocha Rift Oak/ Sapele Shadow boxes/3/4" glass and Halogen Lighting. Designed by Kathryn Cherne for Design Inside.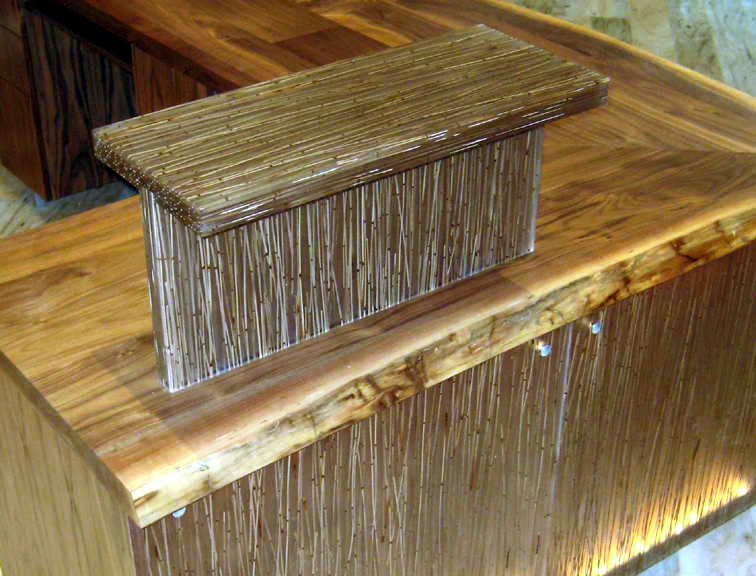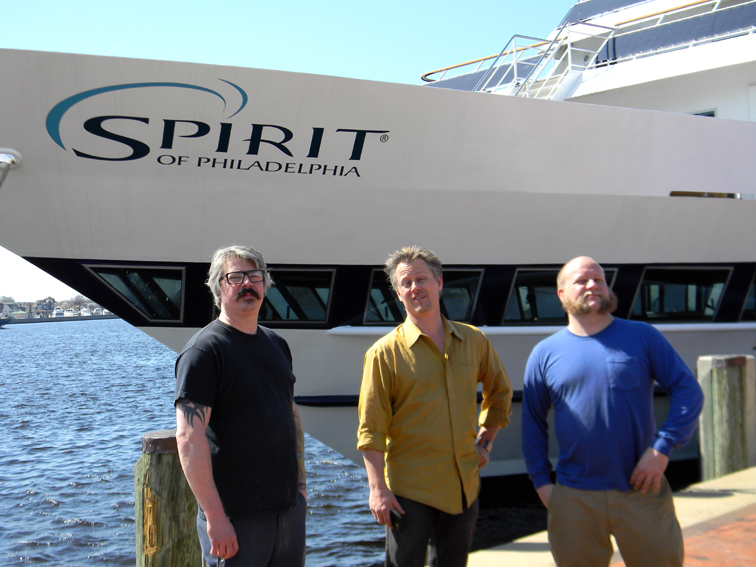 Mark, Dale and Adam begin installation in Virginia Beach...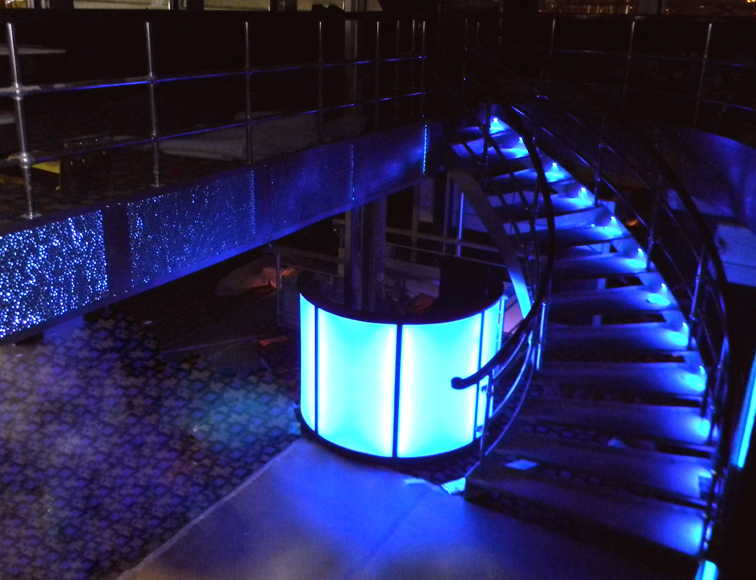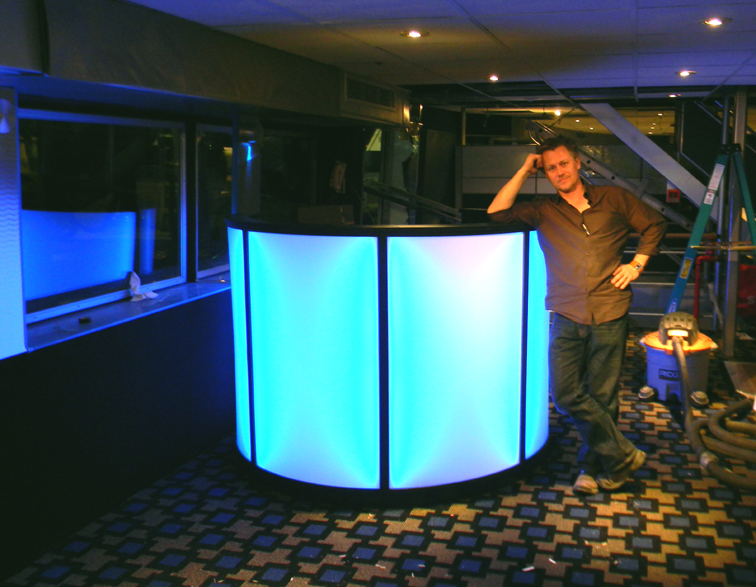 Spirit of Philadelphia consisting of 2 thermoformed translucent corian DJ Booths with Blue LED Lighting. 3 Floors of Buffet Tables in 3" Metal, matte. Black Laminate, lit Corian lifts, and edge lit 1/2" cast glass. Designed by Soraya Gallego for GREC Architects.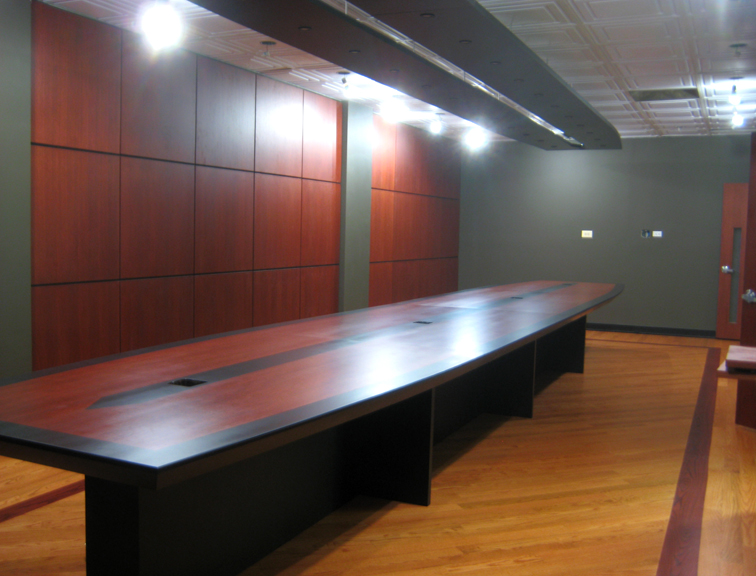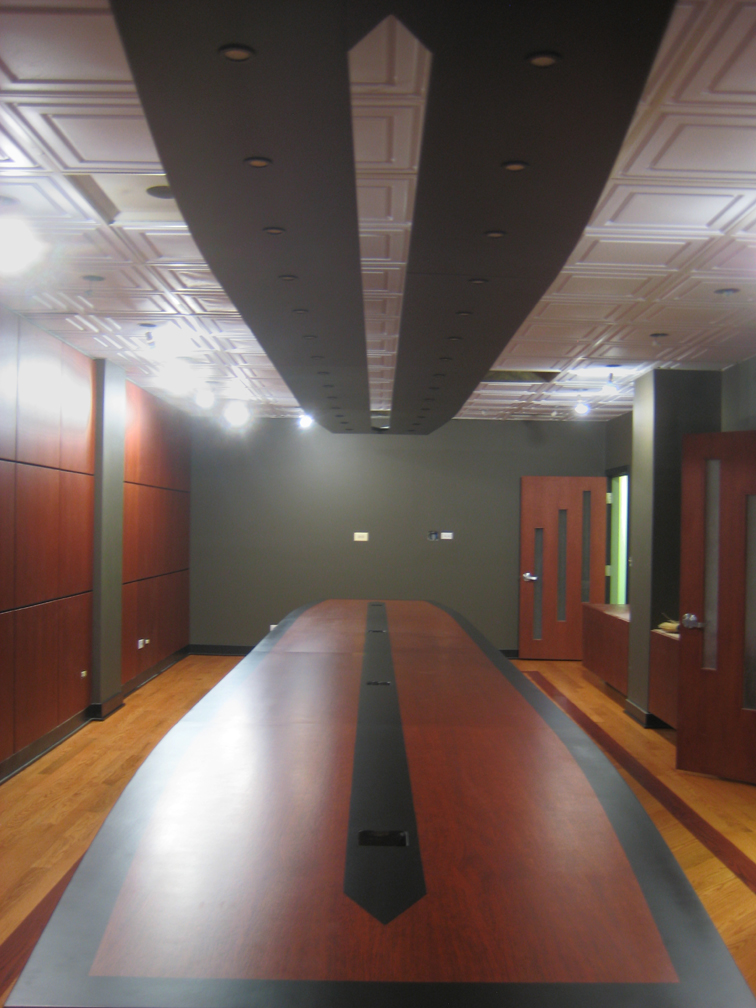 Conference Room includes 30 foot Conference Table, paneled wall, kitchen, coffee station, media cabinet, buffet, spot light canopy, custom designed doors, and black trim accents. Table sits atop ship stem which floats through the top to conceal 4 touch A/V flip panels. Black border terminates in an inverted 3" thick racetrack edge. Overhead individual spot lighting mirrors table's wood design, lifted to the ceiling. Command end of table operates entire room, including 3 lighting stages; ceiling compact flourescents, spot light canopy, under table lighting, and all Audio Video functions. Kitchen is ready for catering with dual warming drawers, Miele in cabinet expresso machine and undercabinet lighting.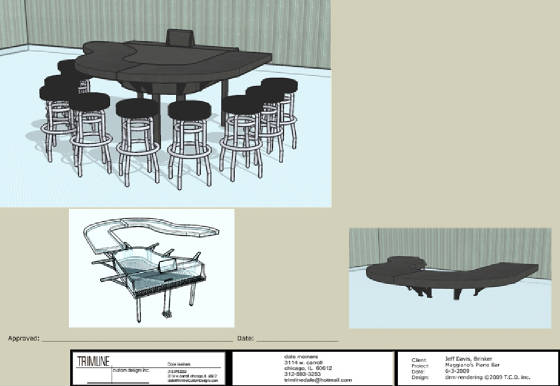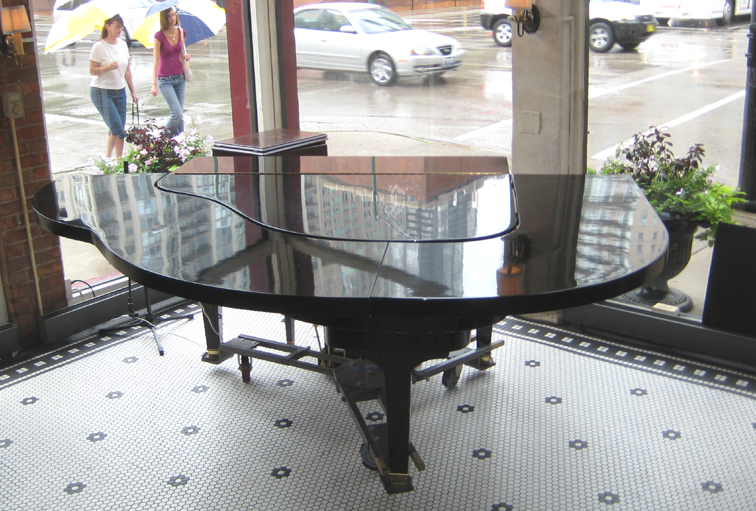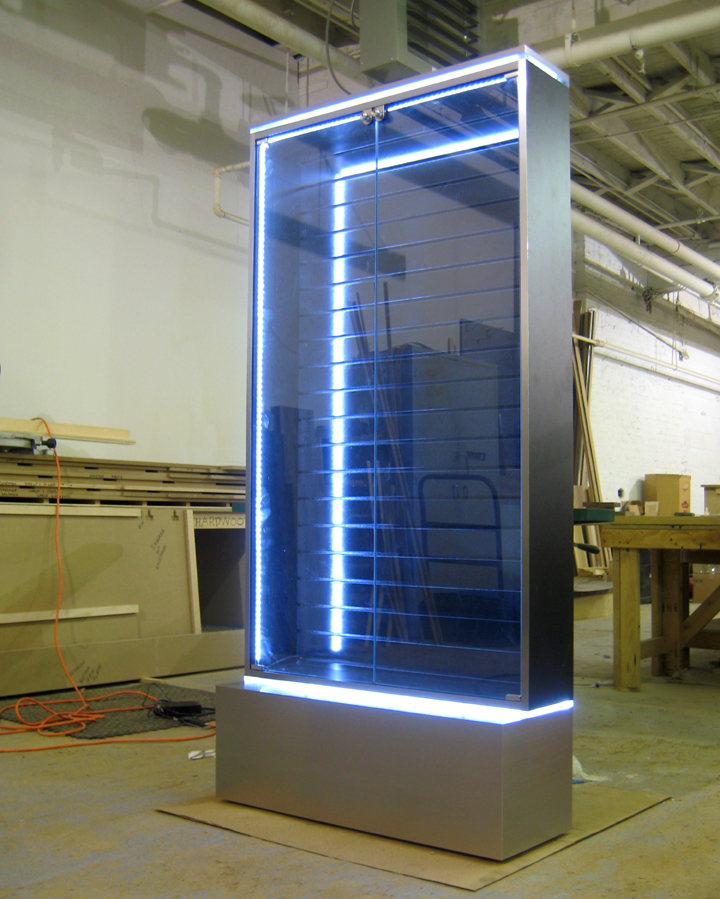 Slatwall Display. Brushed stainless platform, black case, with backlit plexiglas between. 5'x3' on 12 inch base.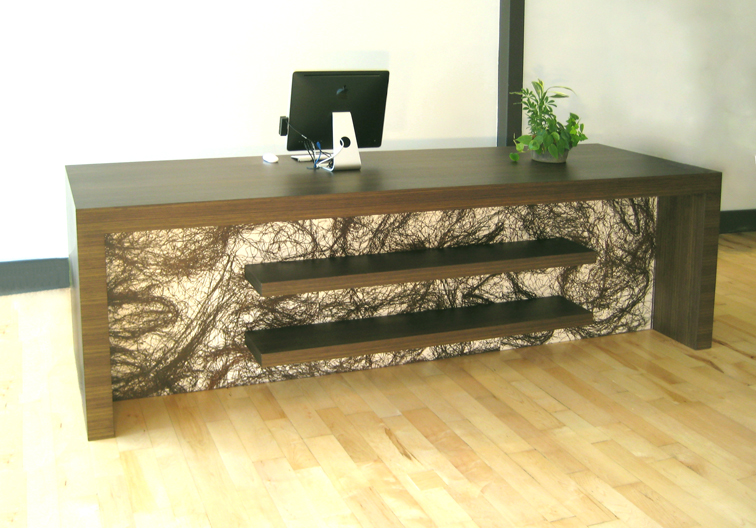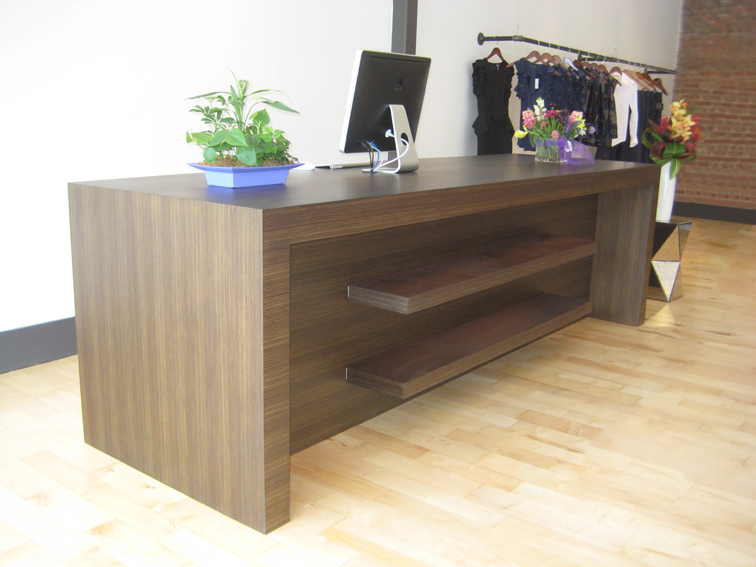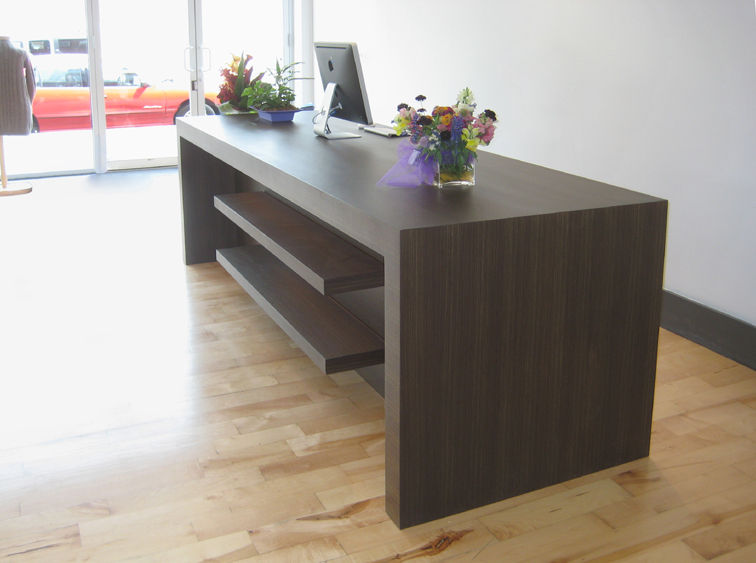 Cash wrap and suspended shelving for Fix Boutique on Fulton in Zebra wood with custom Trimline green mocha finish. Display area illuminated from above, and inside upper shelf. 3-D Acrylic panels to come...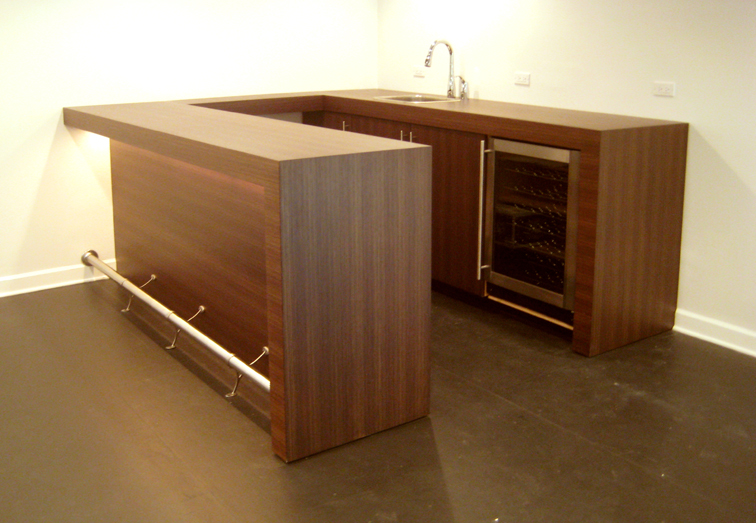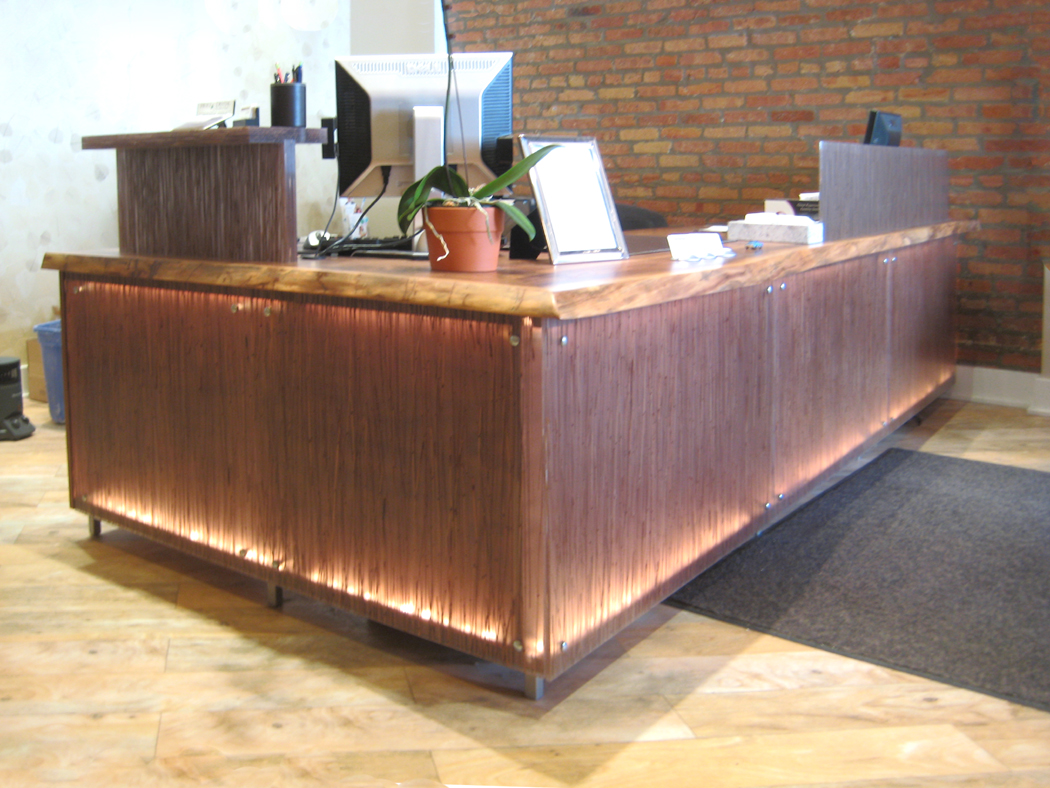 Reception Desk for Bucktown Dental on North Ave. Solid 2 inch live edge walnut counter atop backlit reed acrylic skirt, atop mac grey metal legs. Cable management hidden in the entire length for ease of networking. Plenty of specific storage inside, and dual counters ensure a clean counter surface. Laurel Feldman provided a stunning design for us to fabricate, and Melissa allowed us to use beautiful materials.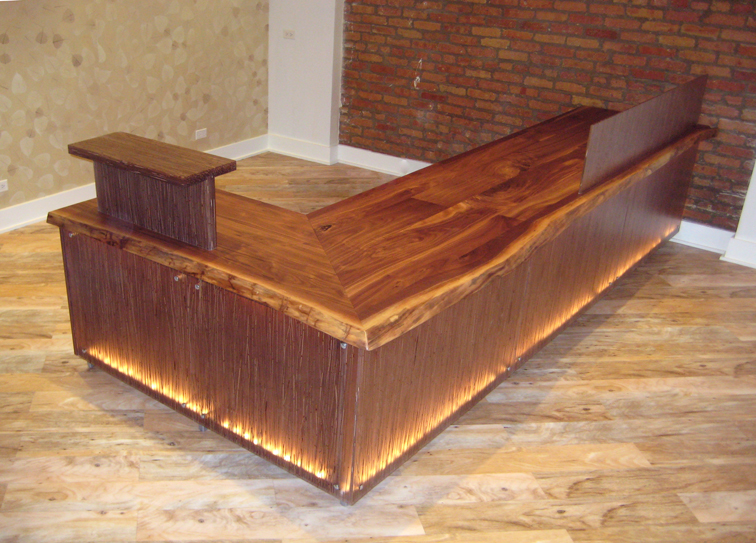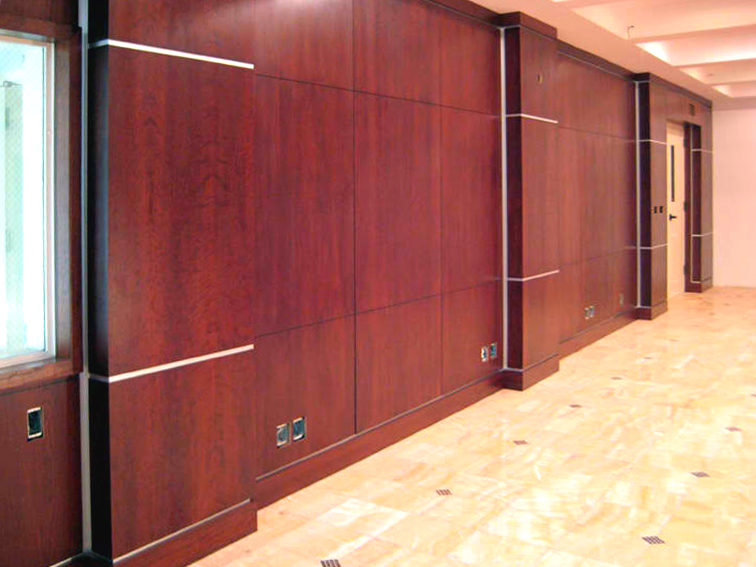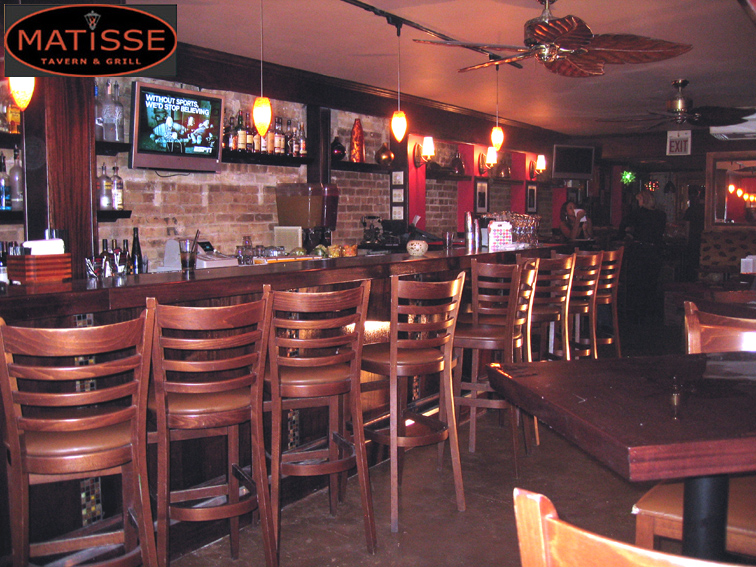 Including design and layout of new bar, building main bar (on a metal skeleton), back bar and liquor shelves, table tops, new fireplace including Italian tile, Mahagony wainscoting, and ottomans.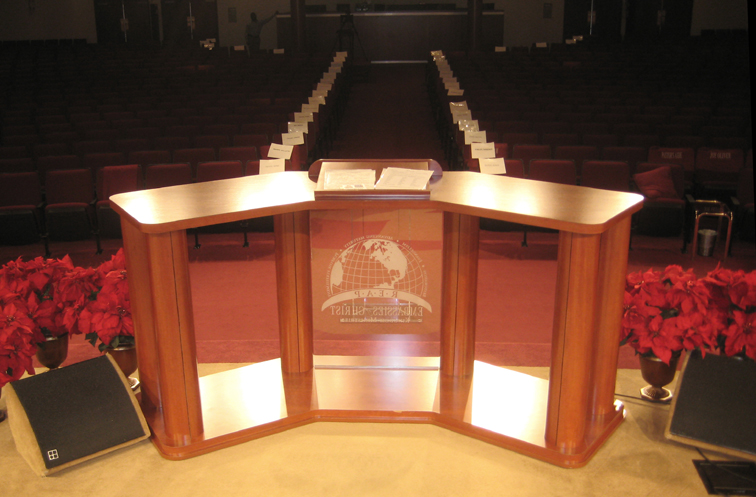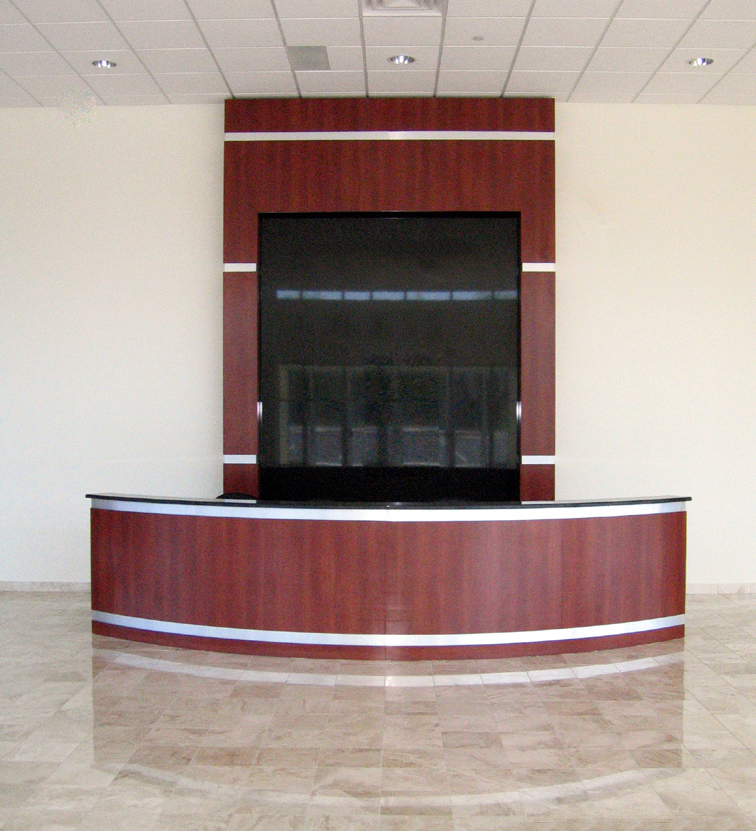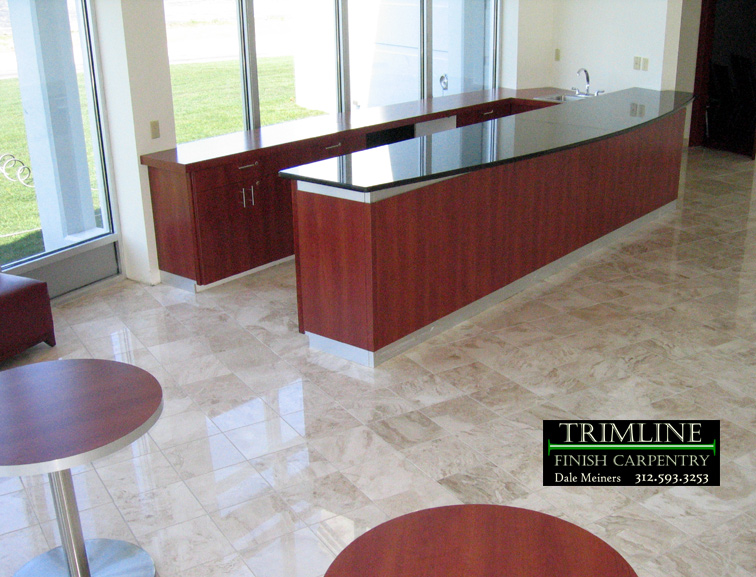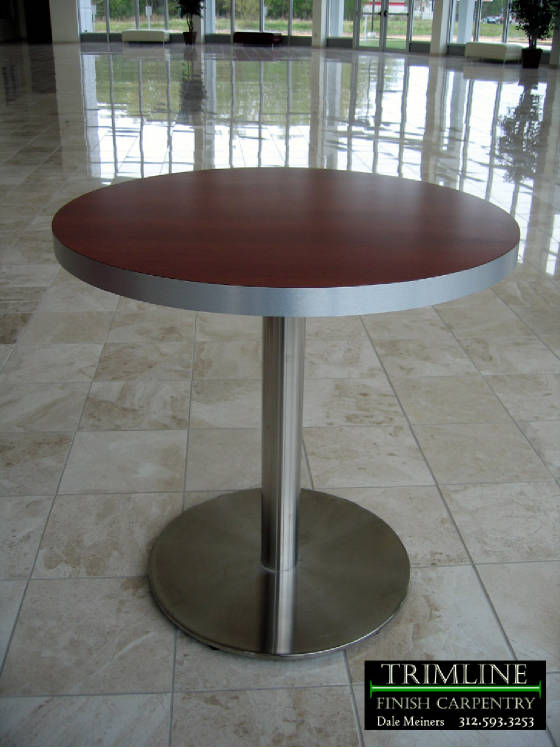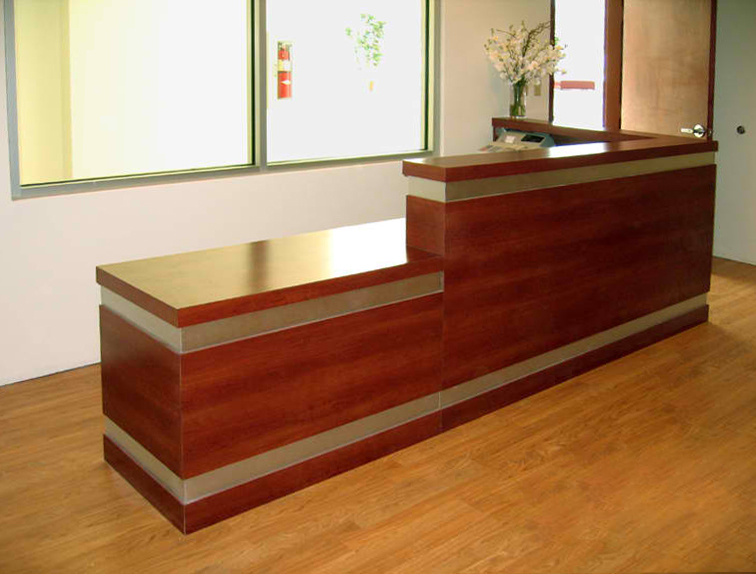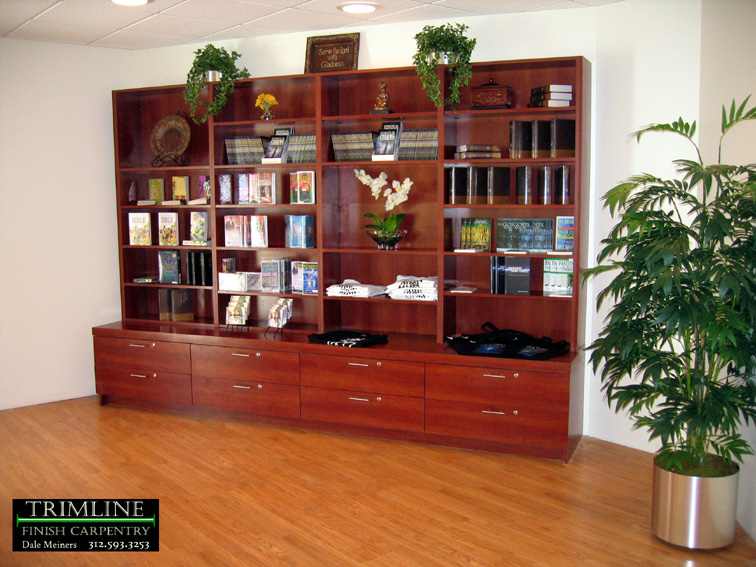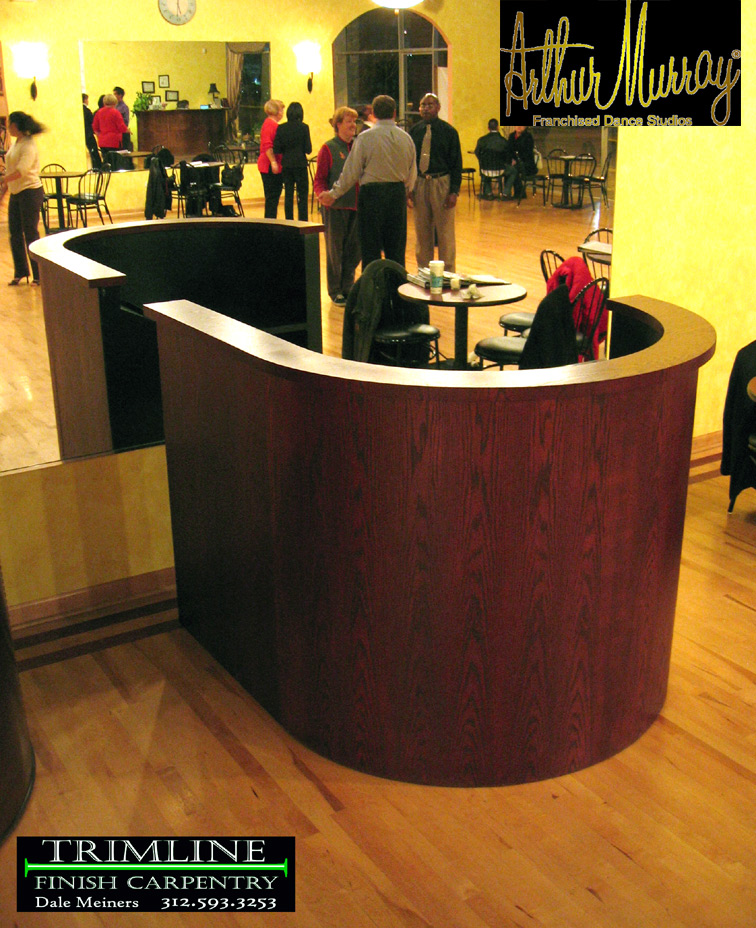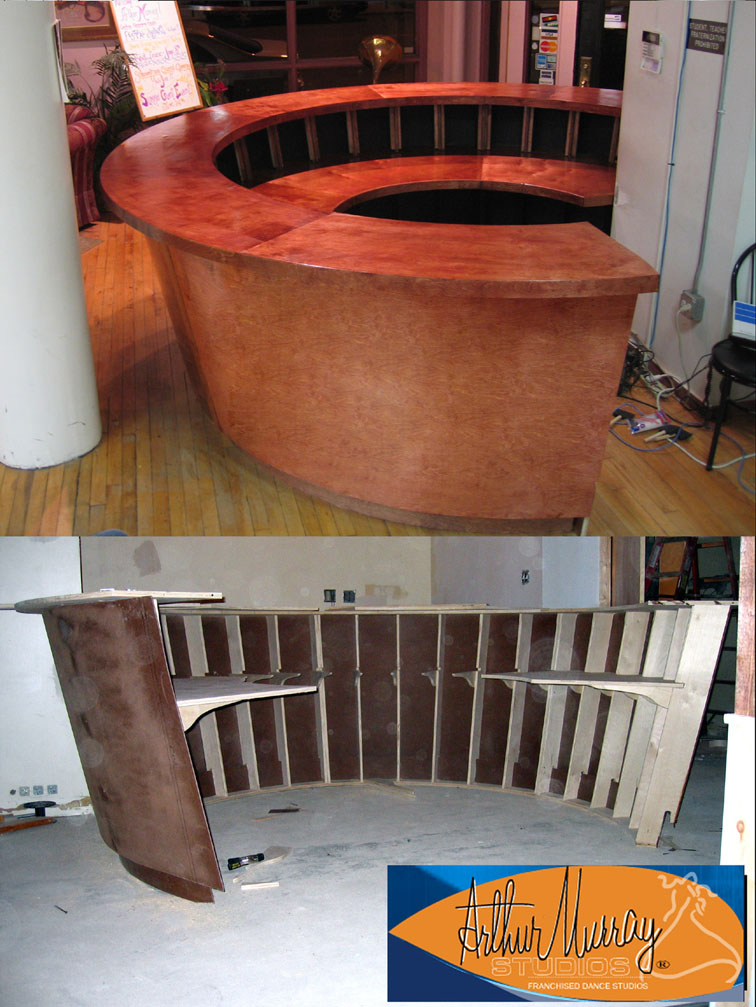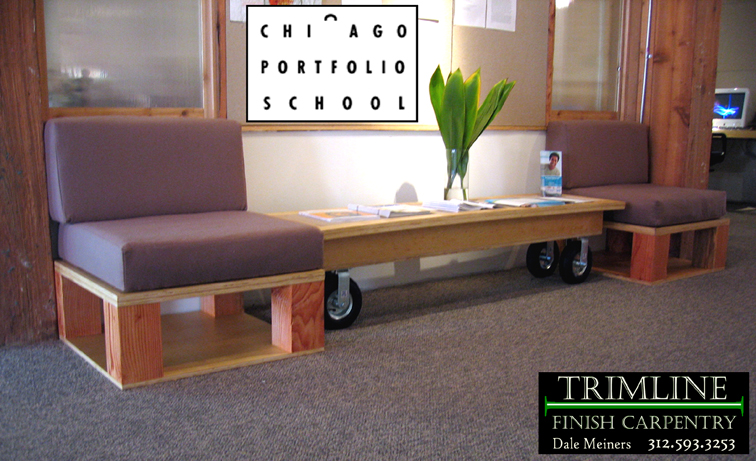 info@TrimlineCustomDesigns.com
Trimline Custom Designs inc.
3640 S. Kedzie Ave.
Chicago, IL 60632
312.593.3253
© 2014 Trimline Custom Designs Inc.