Phone: 312.593.3253. email: info@TrimlineCustomDesigns.com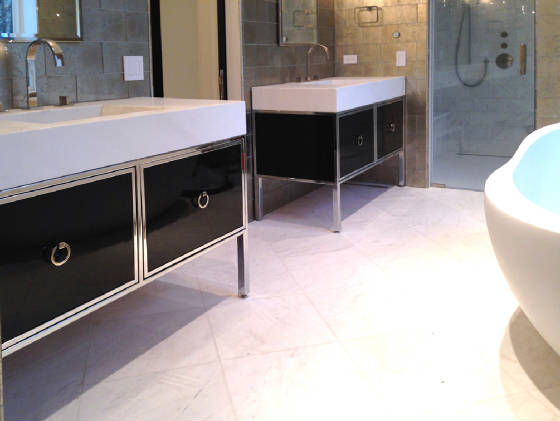 Nickel plated frames surrounding Magasscar Ebony full gloss panels. Eight full extension soft stop drawers per vanity. For Wendy Labrum and Lance Lauderdale.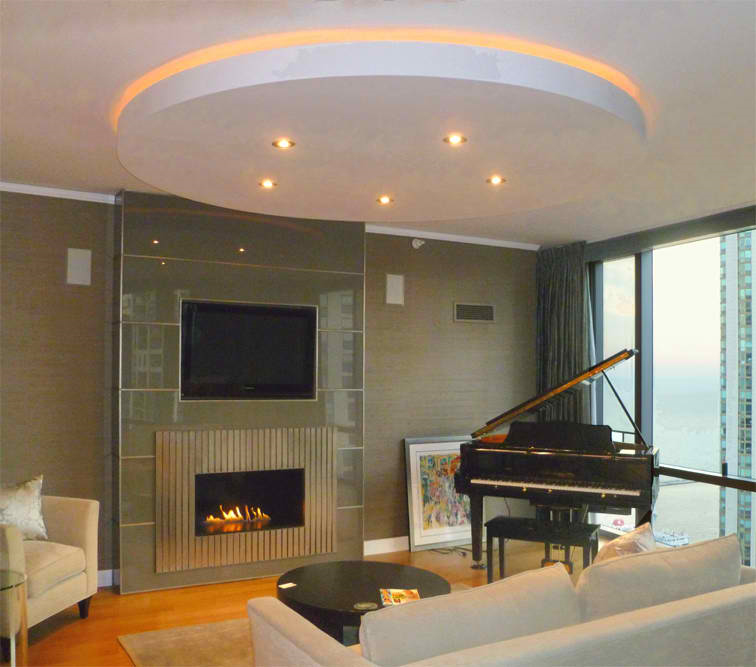 Fireplace surround in backpainted glass with nickel plated bands. Ceiling domes with task lighting, and ambient spill lighting. For Zach Hayes Design.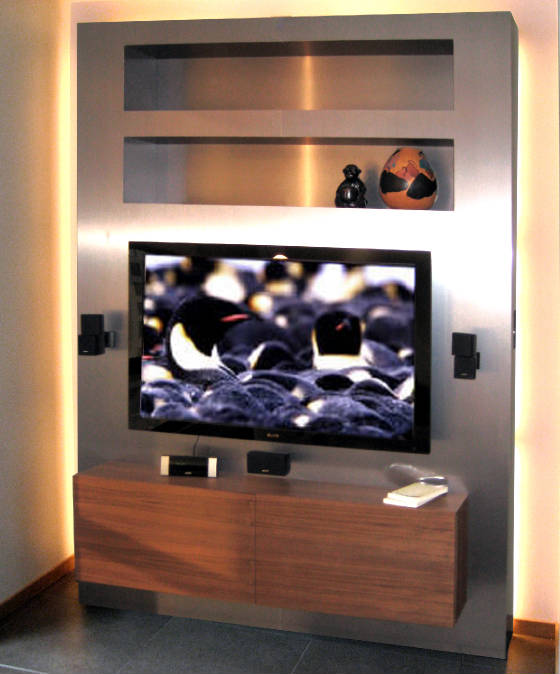 Entertainment System in smoked brushed stainless with walnut credenza. Backlighting accesed from switch on side of piece. Walnut credenza passes through face to achieve component, laptop, and subwoofer storage. Mitered doors open via touch latch for a seamless apearance. Recessed upper shelves for display.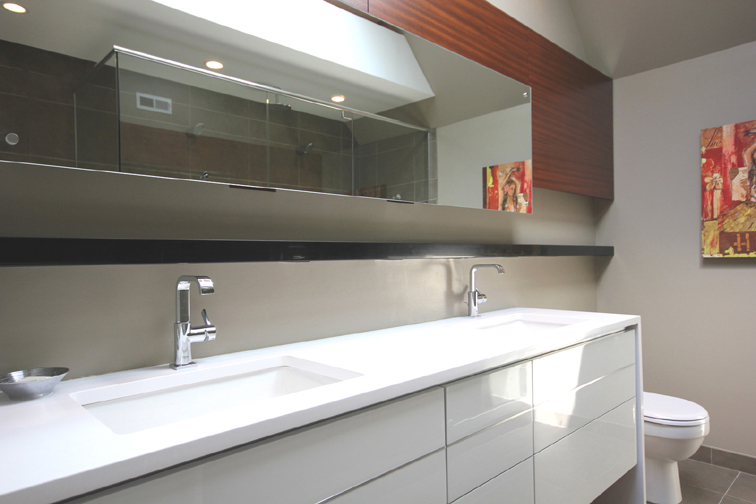 Master Bath in mirror polished pure white, Sapele Mahogany and Aluminum. Master Vanity and Shower Vanity in polished white with Aluminum band, 2 Sapele doors with Aluminum inlay on Sliding tracks, Sapele Panel behind mirror. For Katheryn Cherne at Design Inside. Photos by Bill Cherne.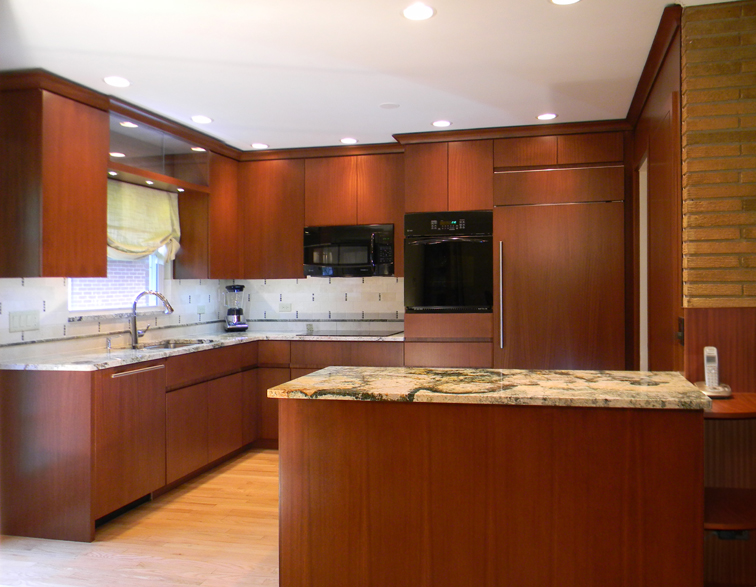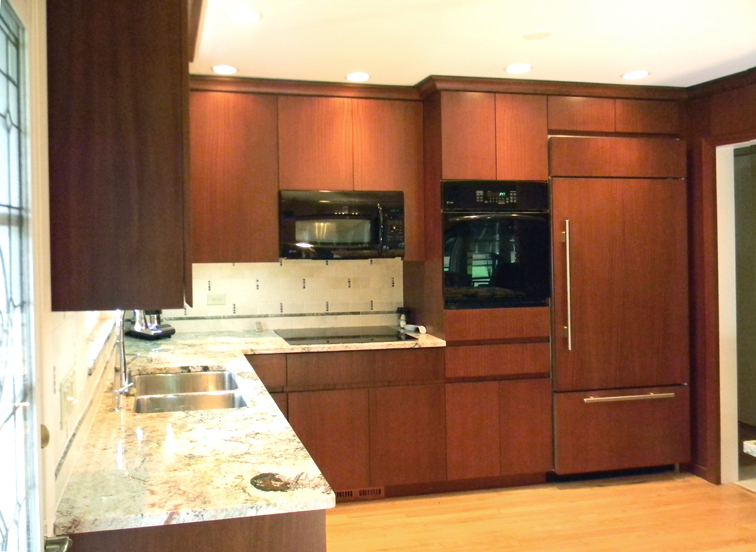 Vertical Sapele Kitchen maximizing storage. 2 stages of lighting, integrated handles, paneled wall with pantry, lazy susan, soft stop doors and drawers. Very healthy, with low VOC finishes, and formeldehyde free substrates. For Paula O'Connel of Environmentally Sustainable Designs.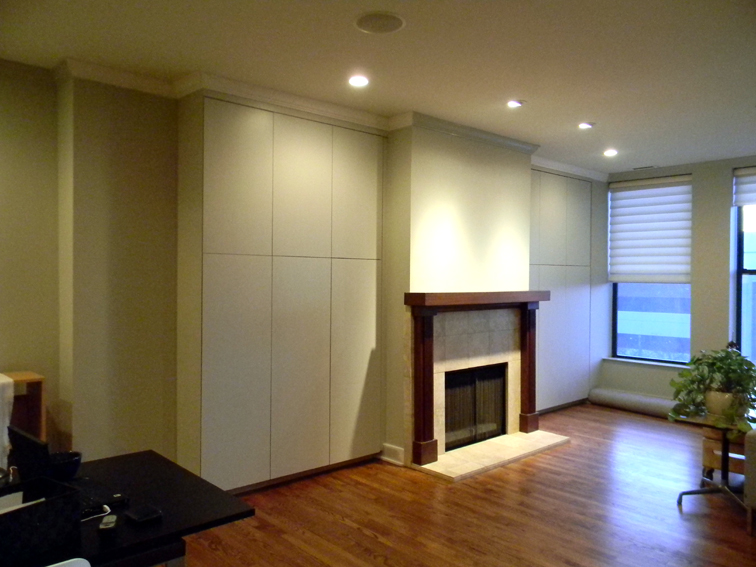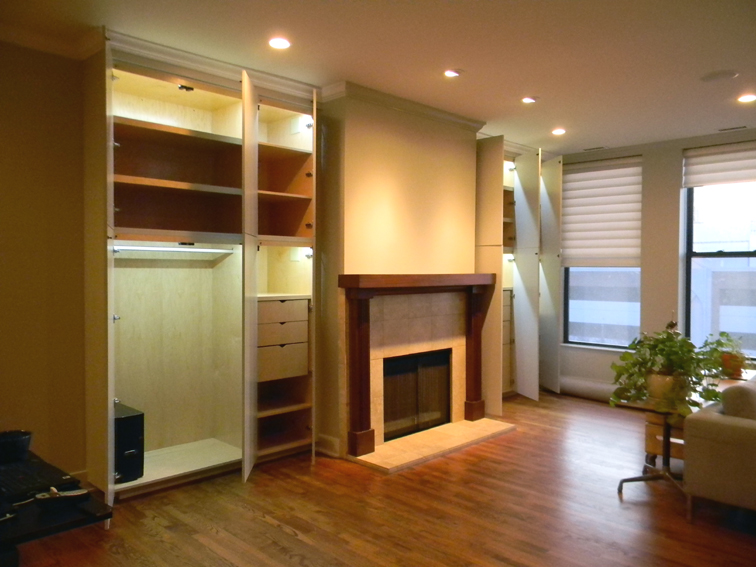 Built in storage. LED lighting via touch latch doors. Multiple interior drawers, charging station.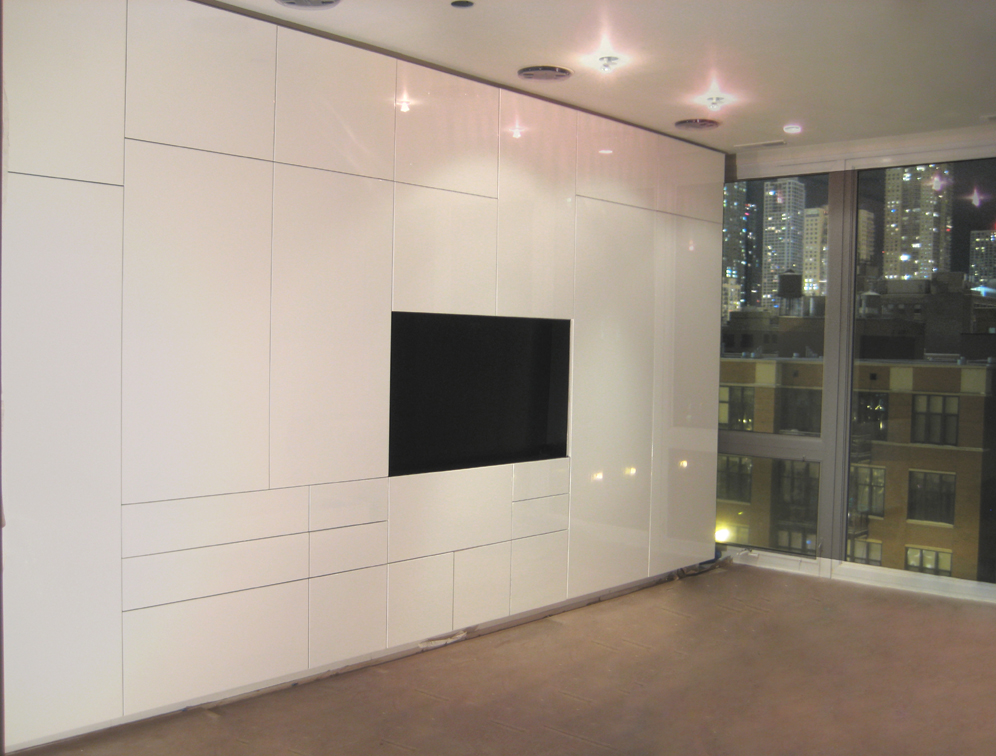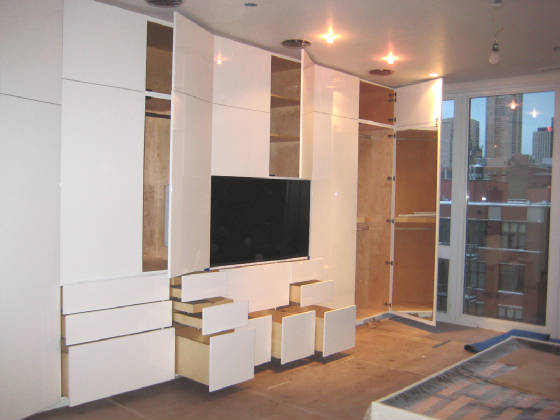 Mirror polished wardrobe/entertainment system. For BernsteinArchitecture, NYC.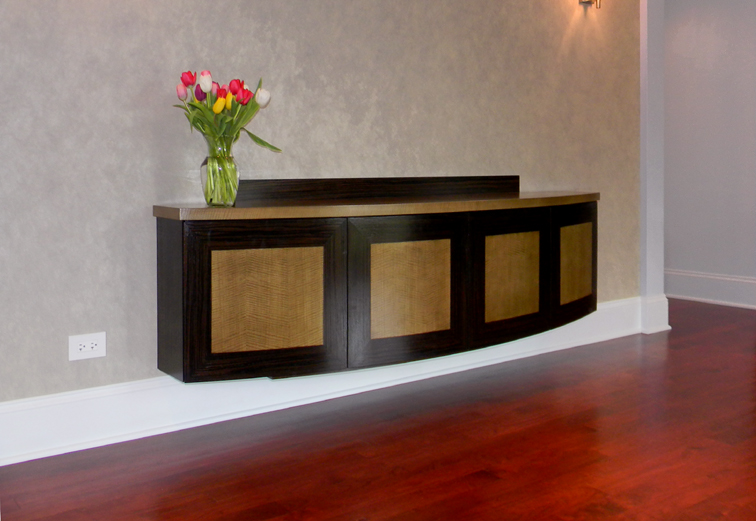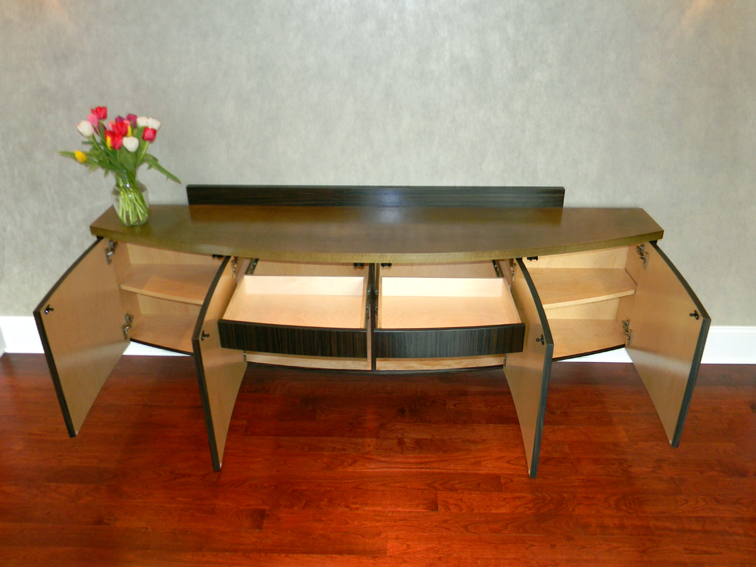 Credenza in Magasscar Ebony and figured Anigre. Cantilevered with 2 internal drawers, and custom finish. For OCGG Architects.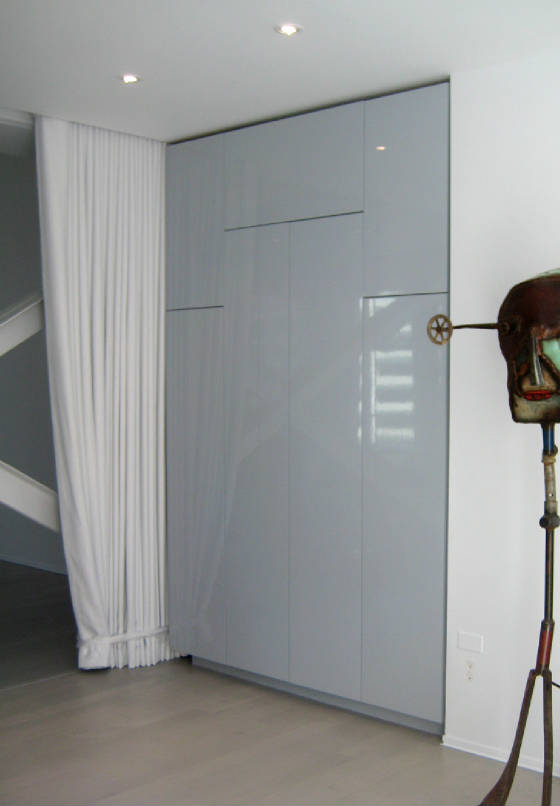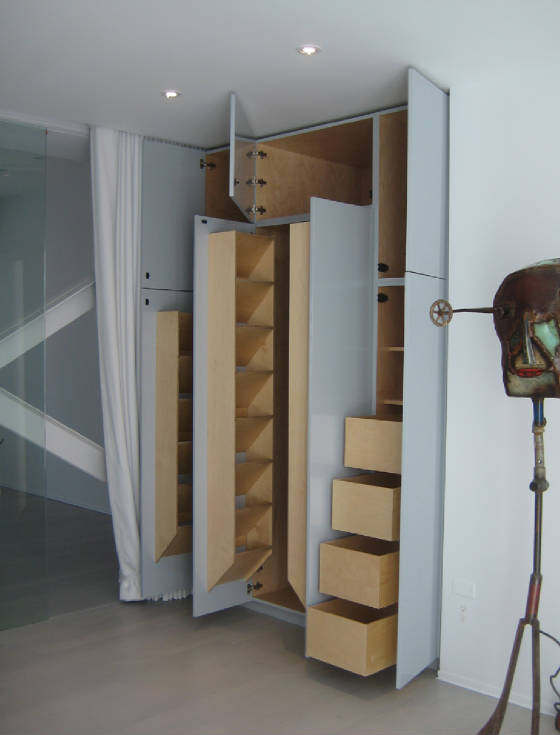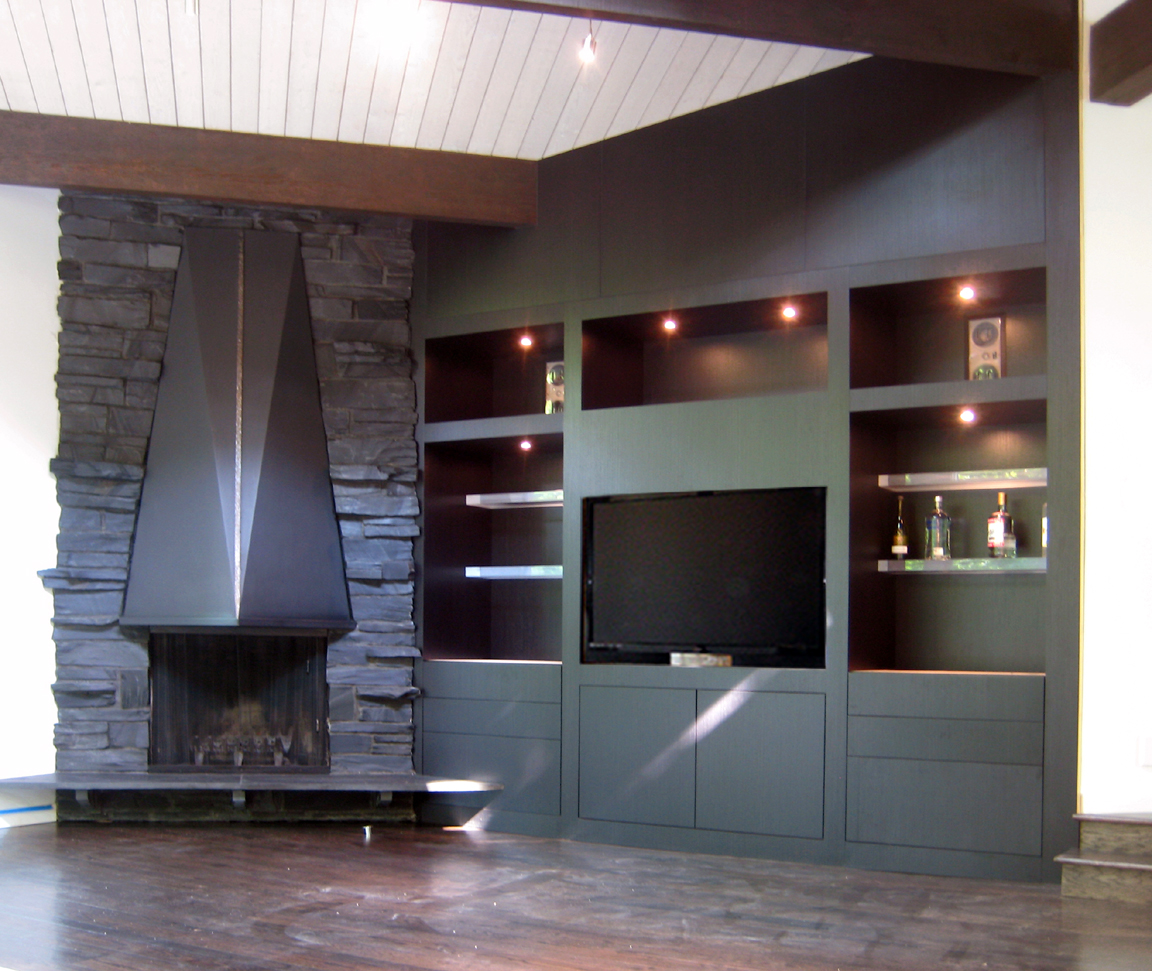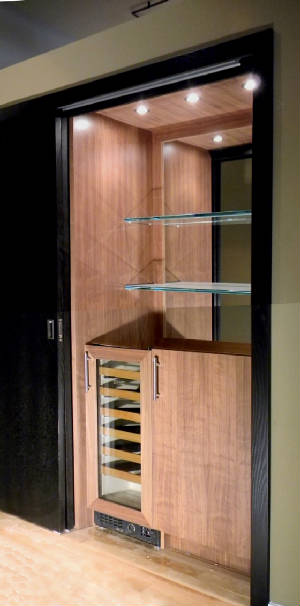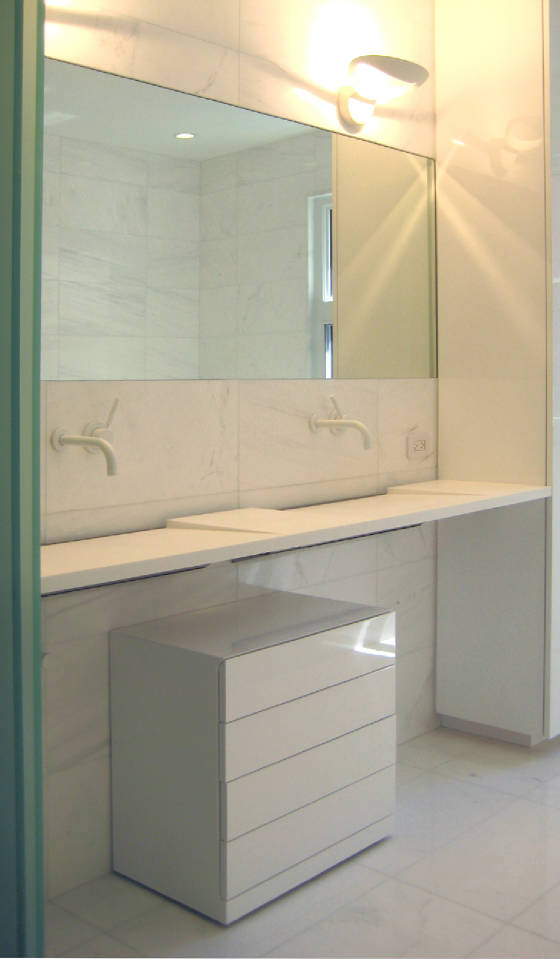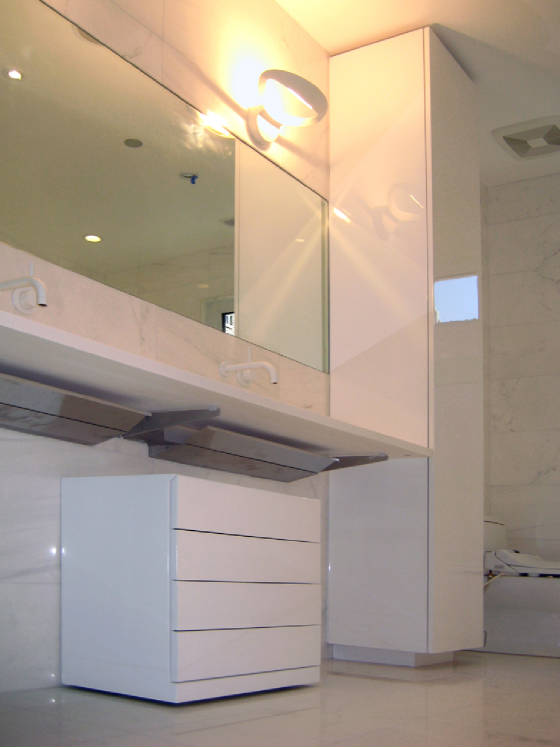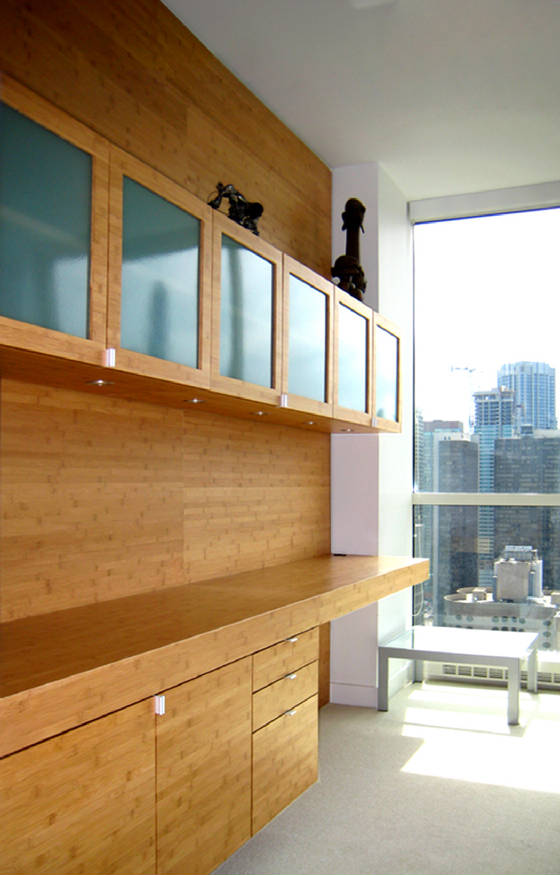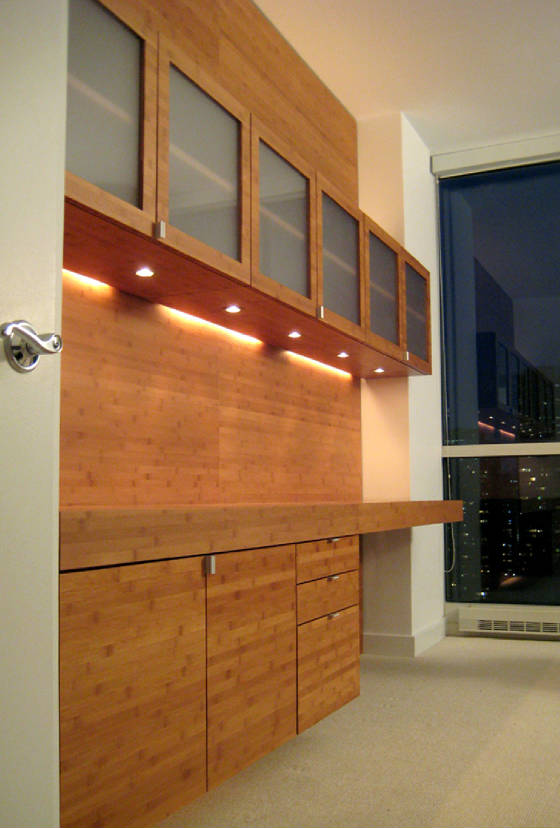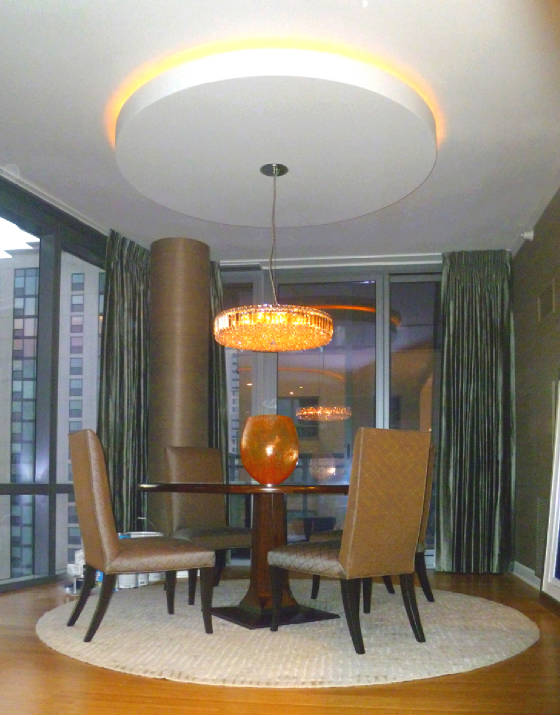 One of 2 lit ceiling domes for Zach Hayes Design.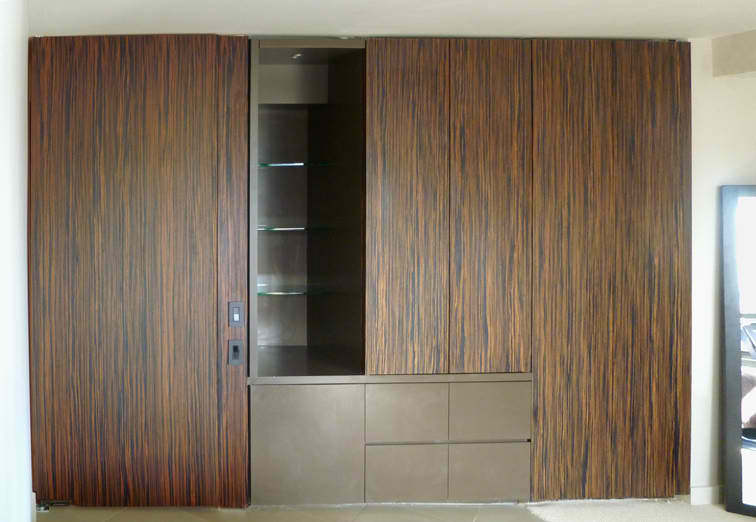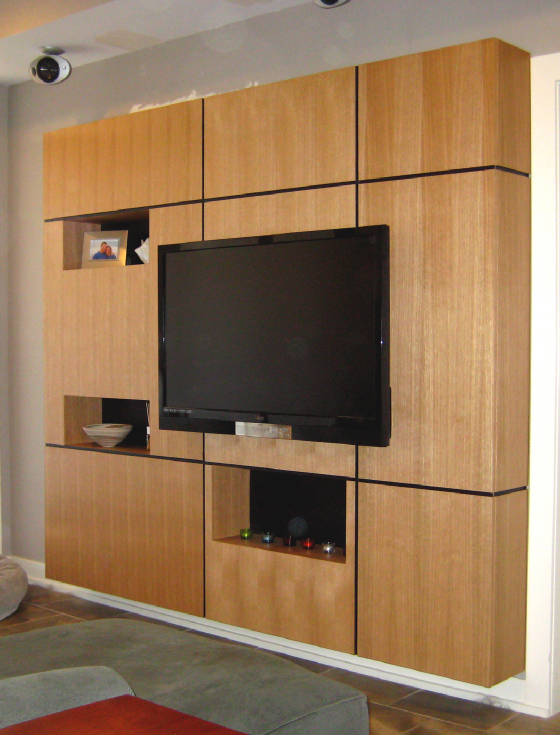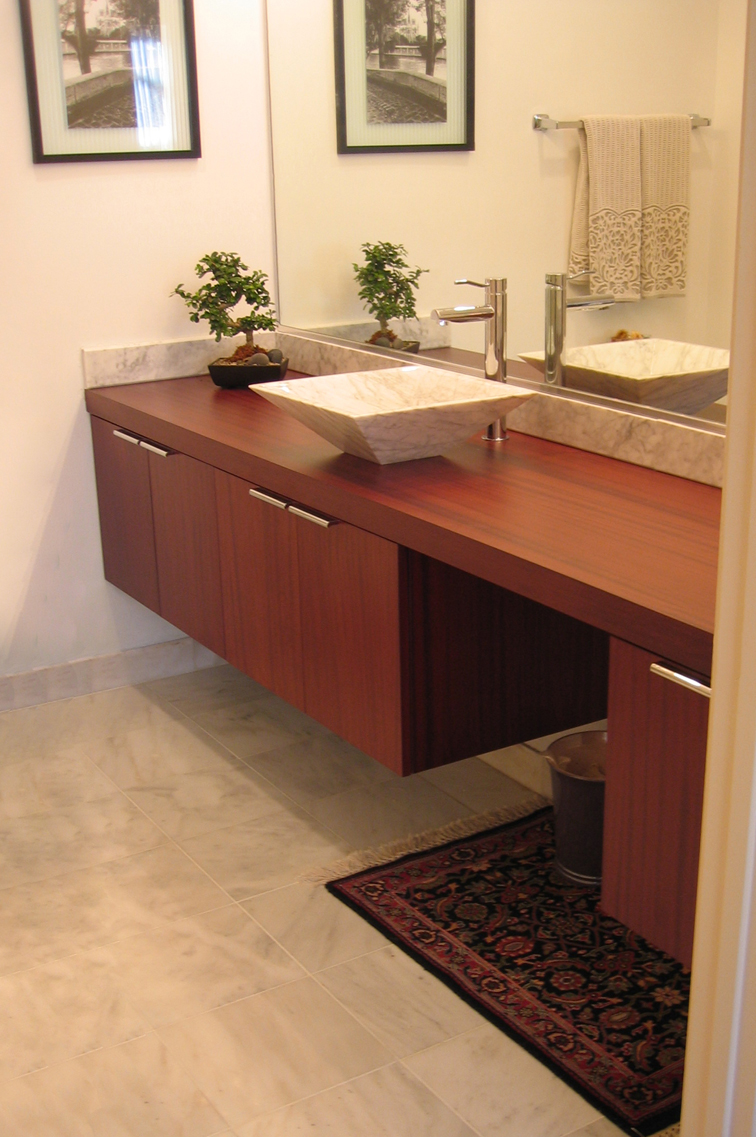 .
.
.
.
Kitchen refacing in the Pinnacle, . . . Before . . .
.
.
.
.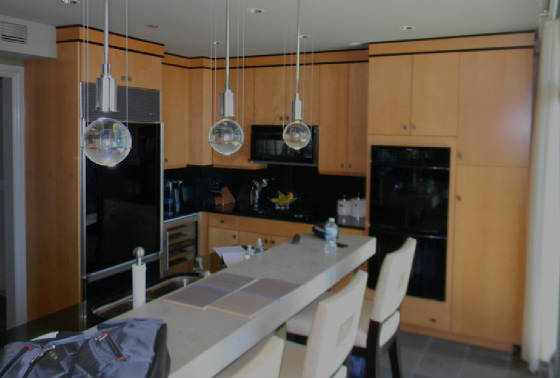 .
.
.
.
. . . and After. . .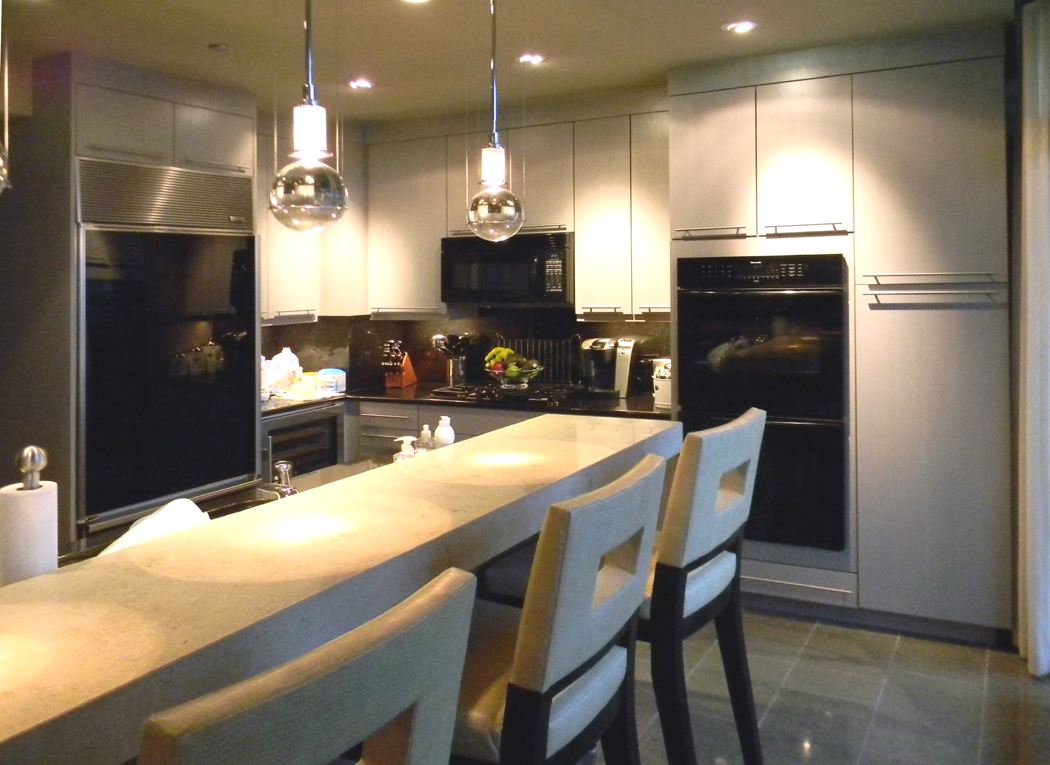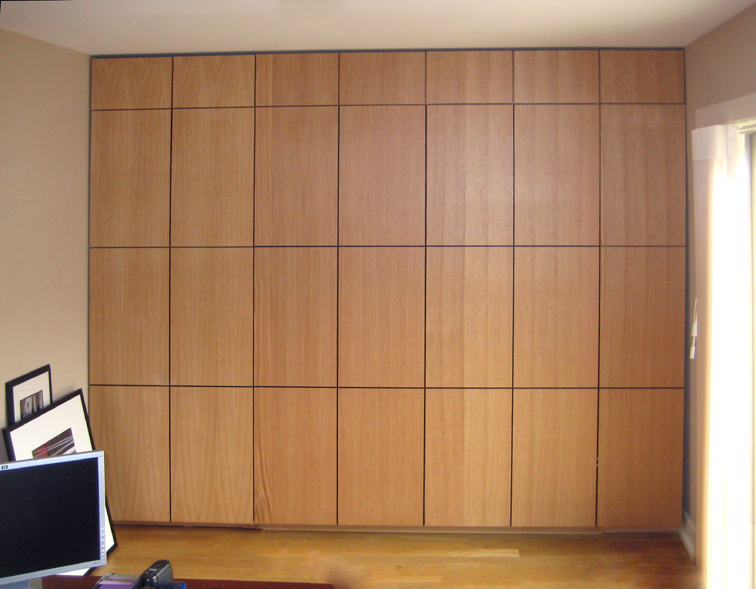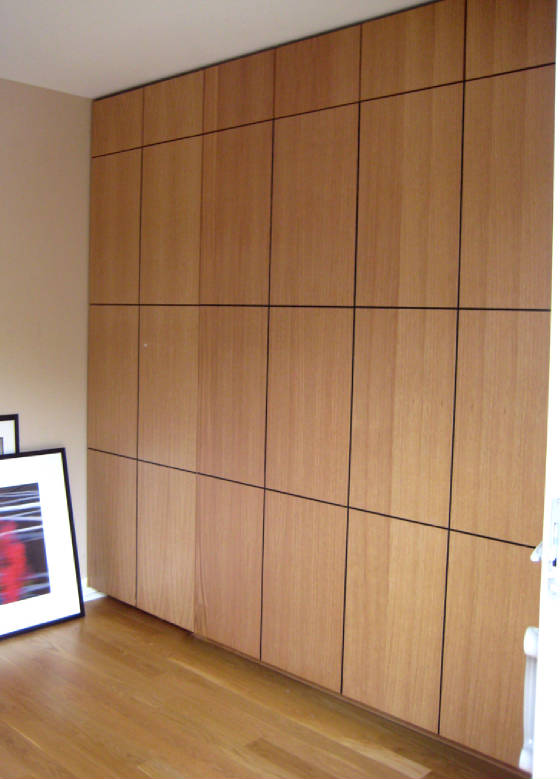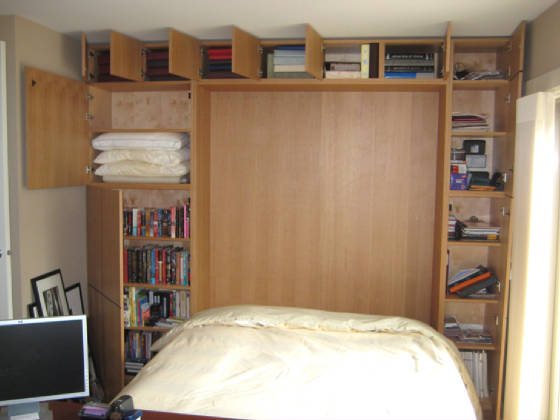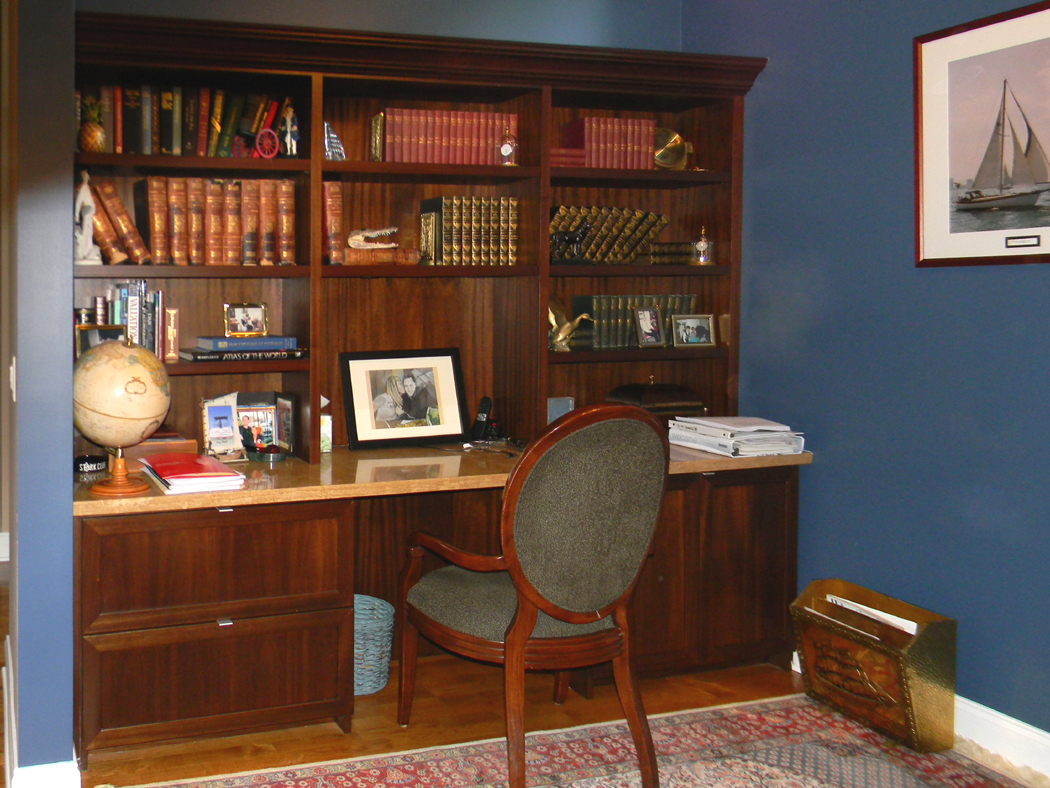 Shaker Home Office is ribbon striped Mahogany for Amy Erb at Divvy House.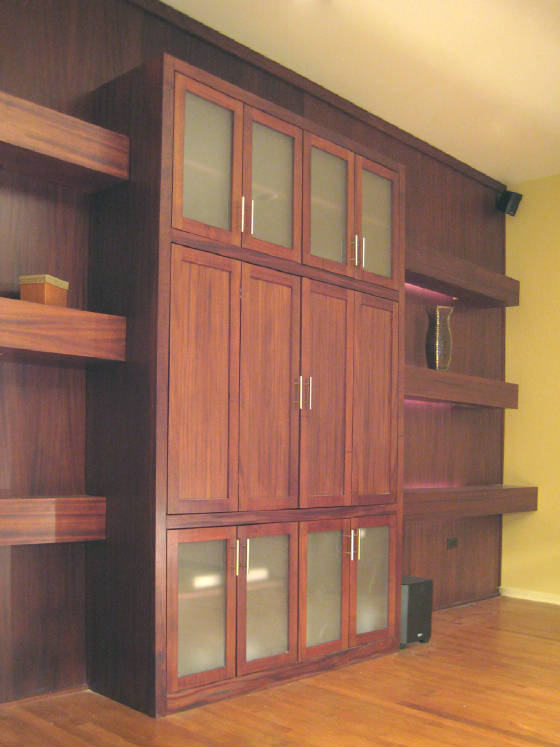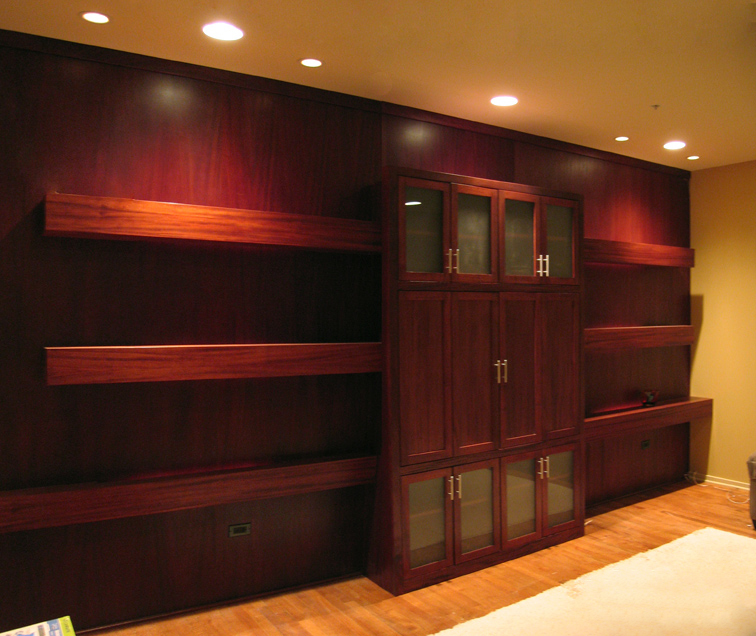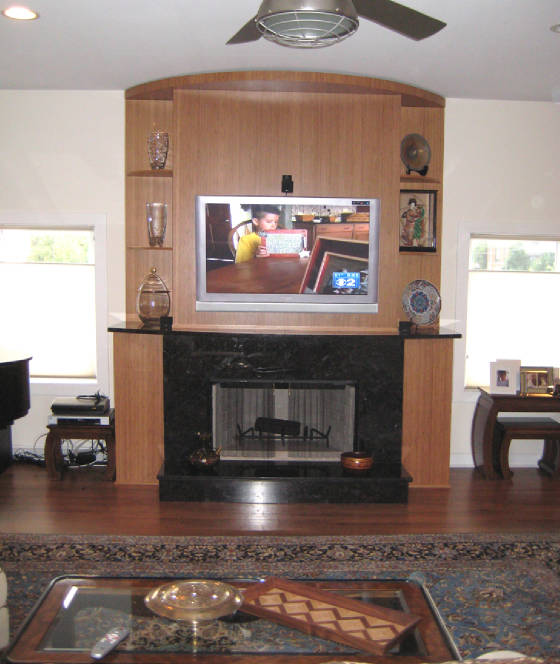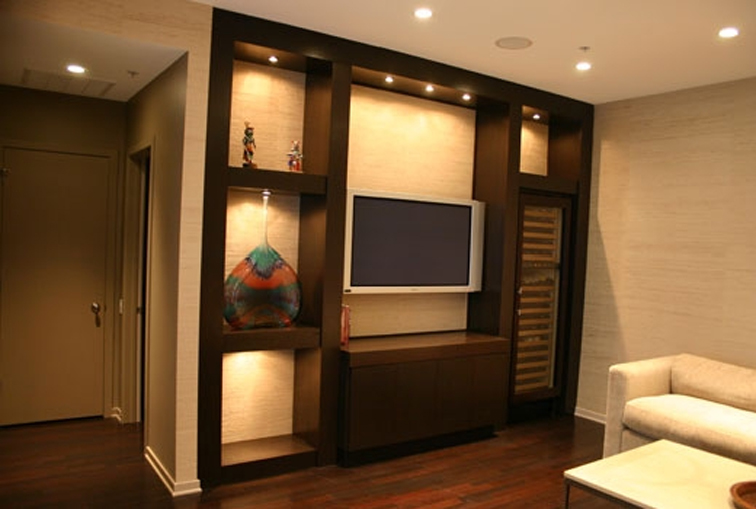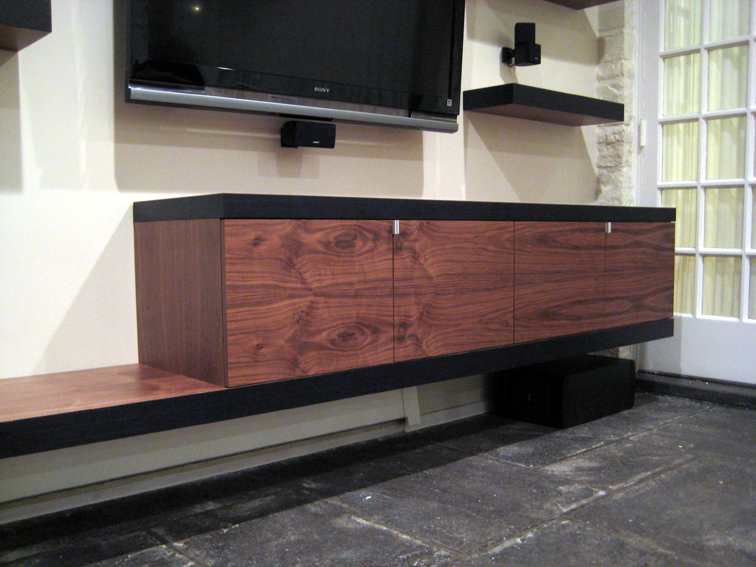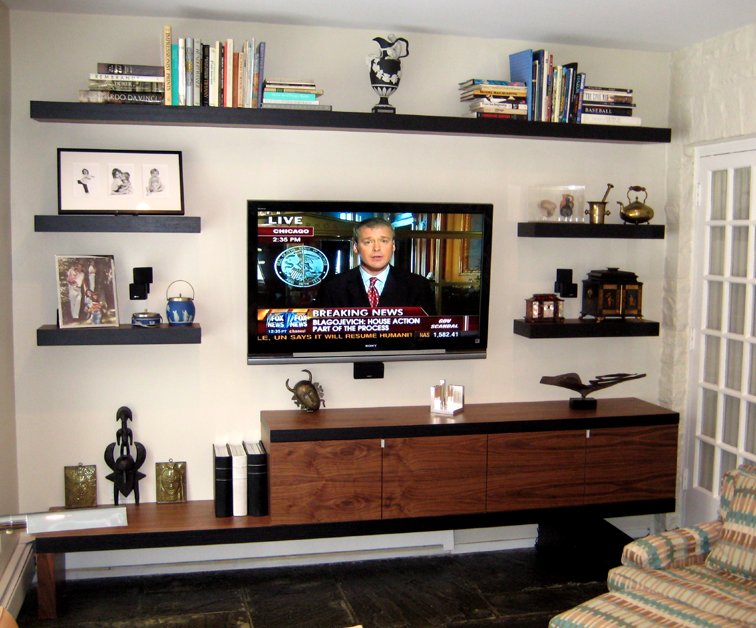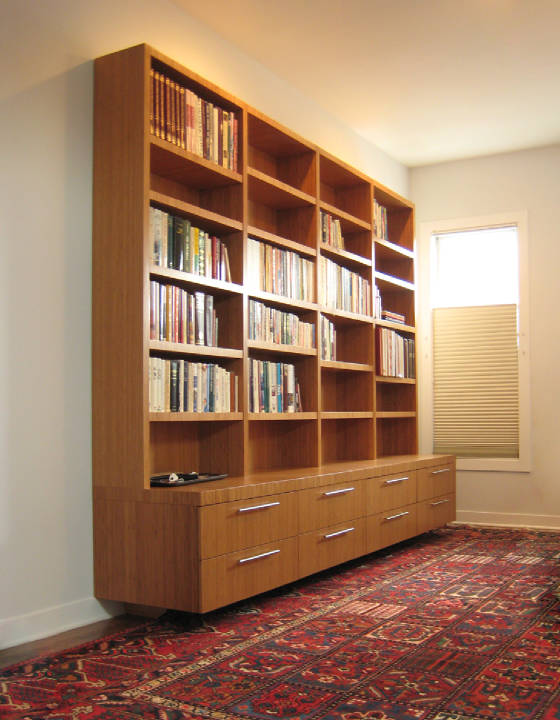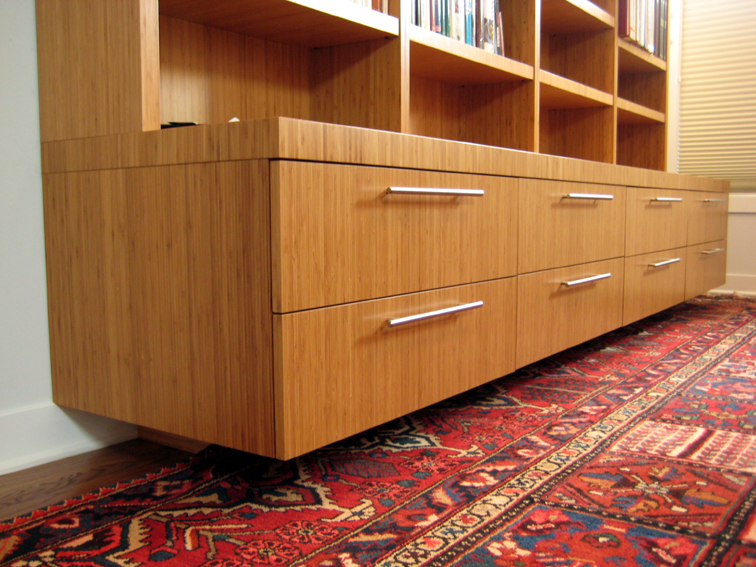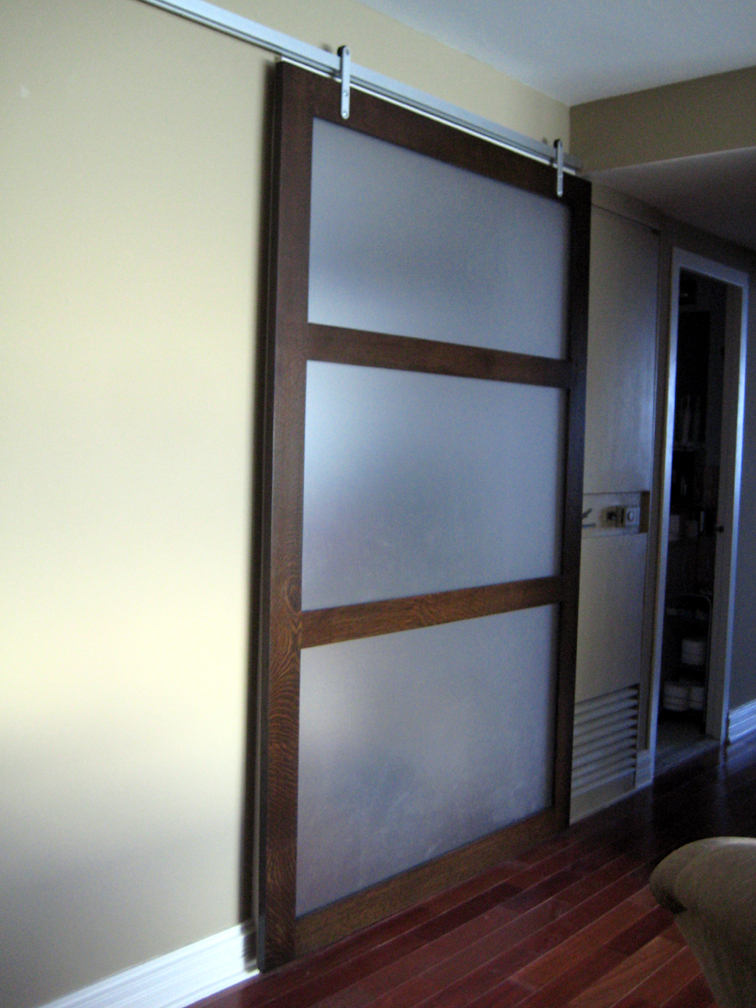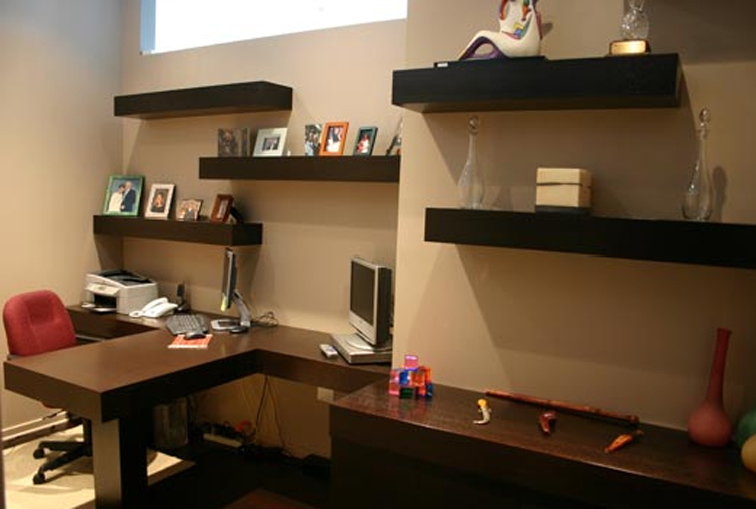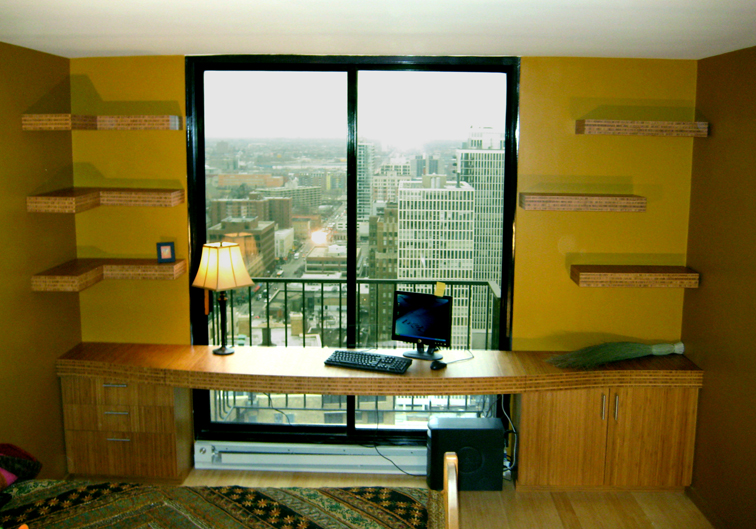 Bamboo Home Office with Butcher Block edge. Built of Caramelized vertical bamboo, this office features a removable center desktop which converts this home office into a guest bedroom.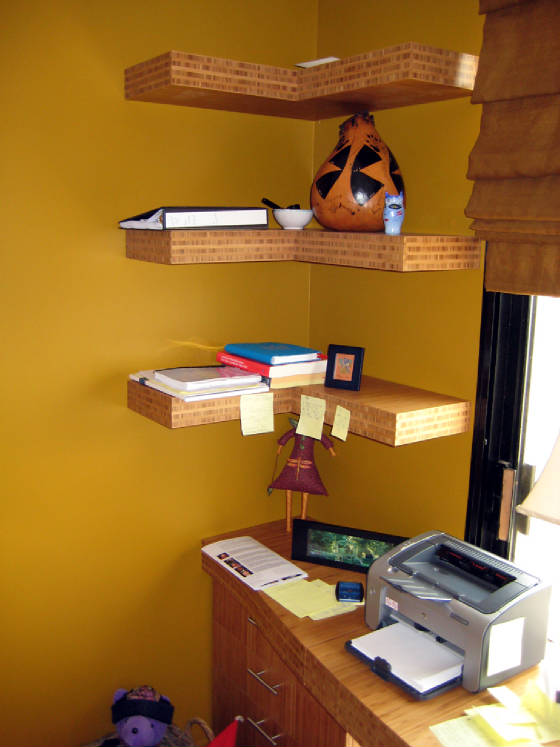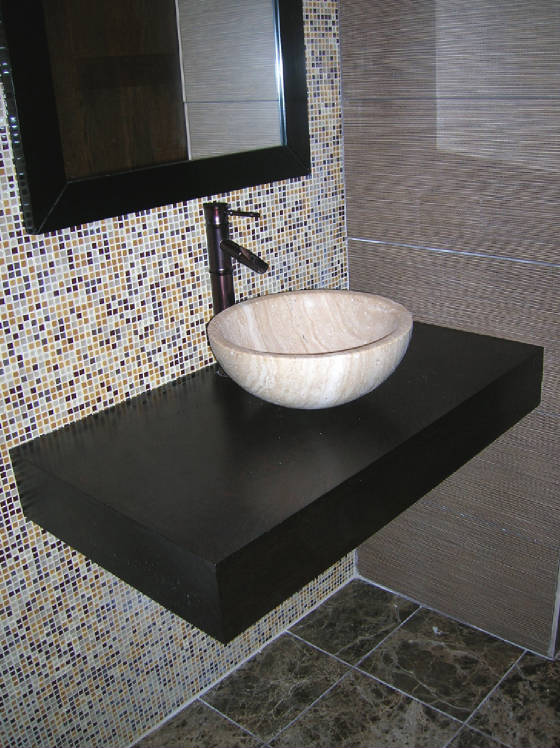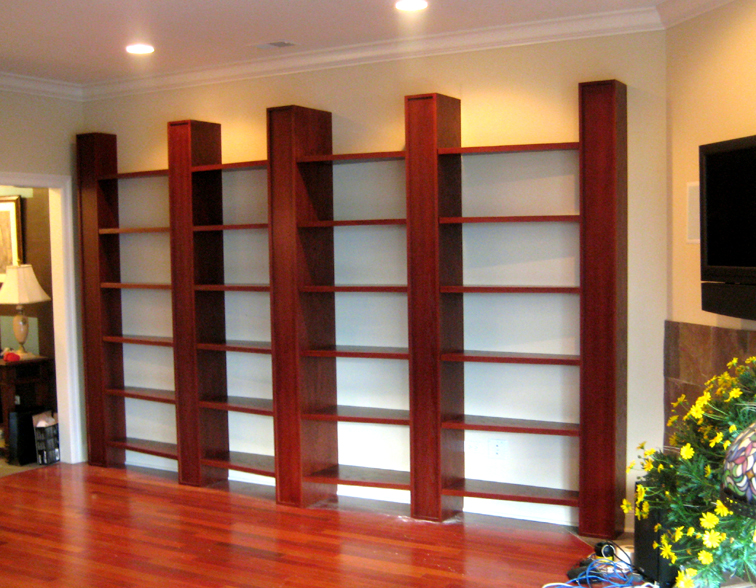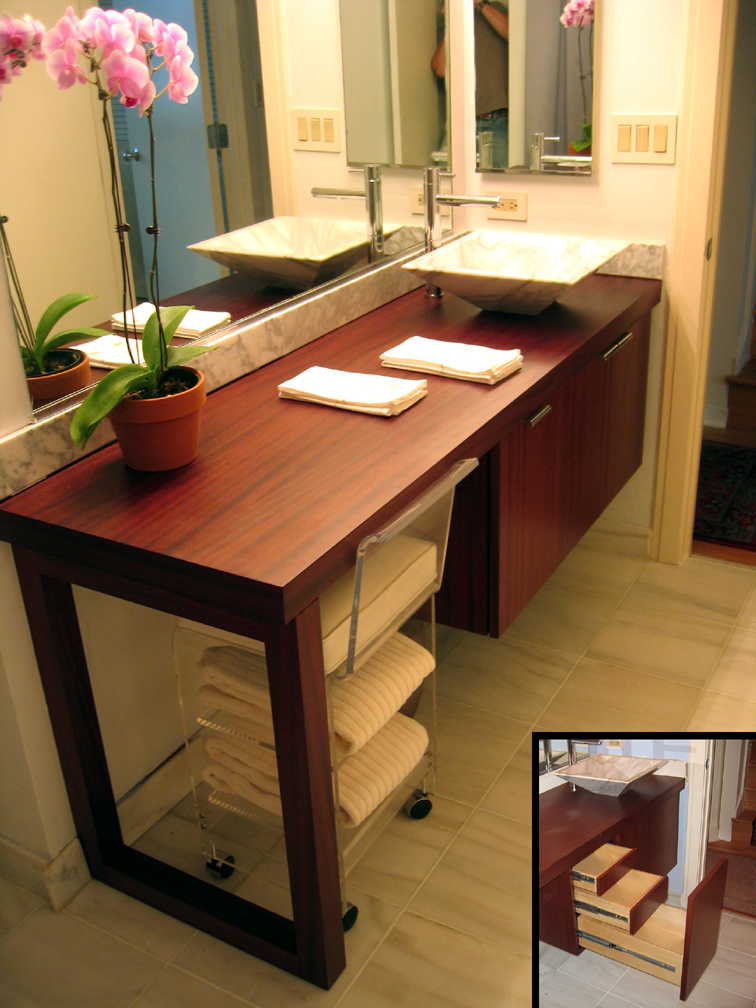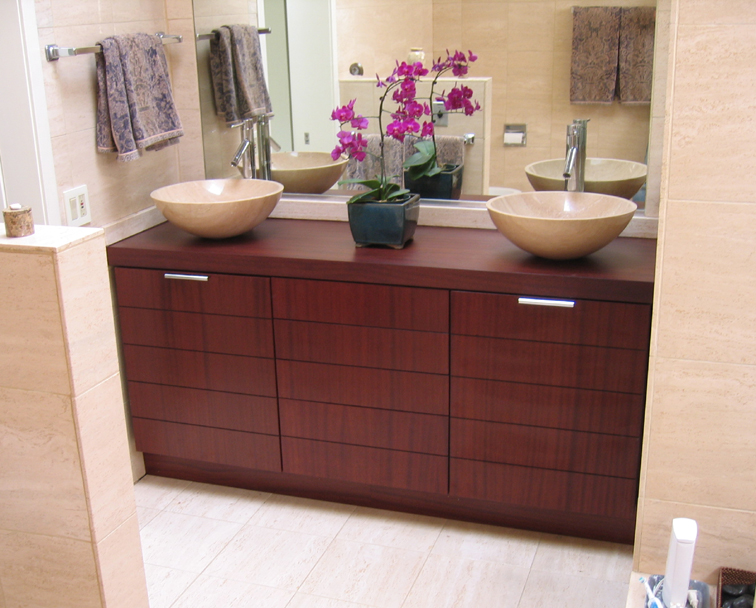 A clever design masking the center drawer bank between left and right doors.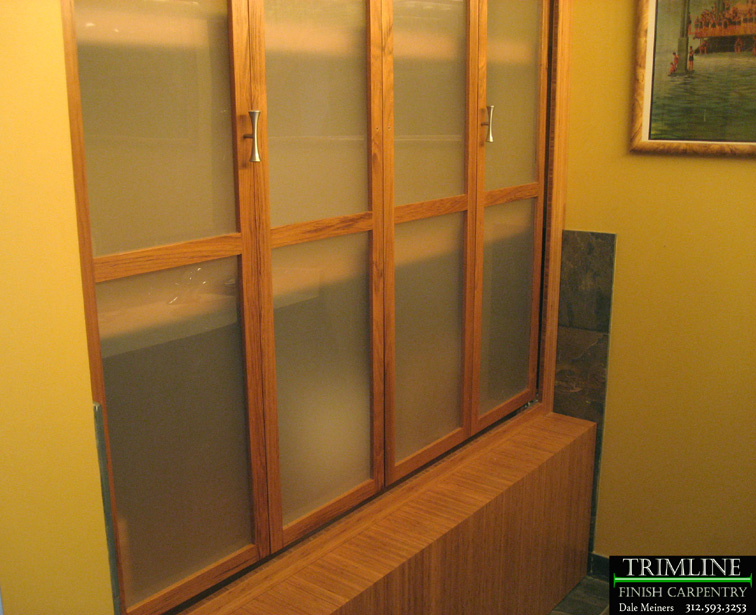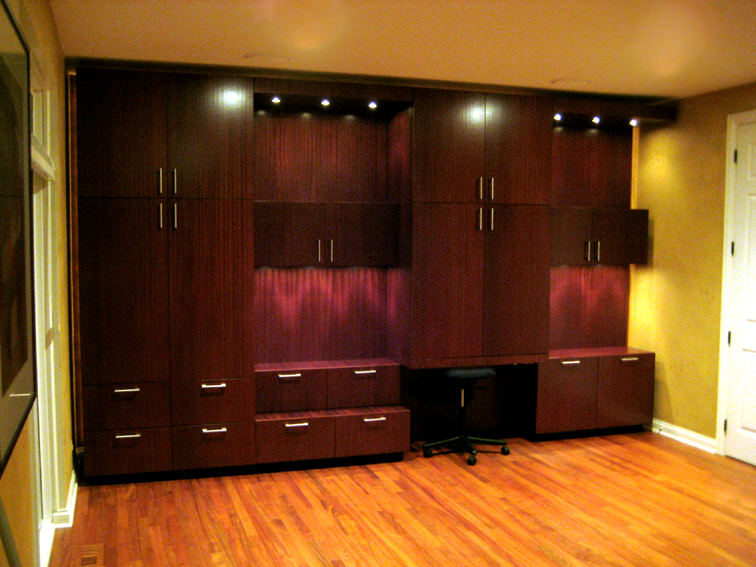 6 sets of lighting on dimmers include: 1. Entire unit is backlit, 2. Upper display lighting, 3. middle display lighting, 4. desk task lighting, 5. desk rear (no glare) lights, & 6. audio center task light. All drawers have full extension over travel slides, doors have Blum fully adjustable hinges, lower drawers at desk are pentiflex ready, cabinet to right of desk has storage for 650 CD's/DVD's and dual pen drawers. Unit is wired to 3 destinations with cat 5, dual coax, and AC. Upper audio hub has 13 speaker connections to send audio throughout the house.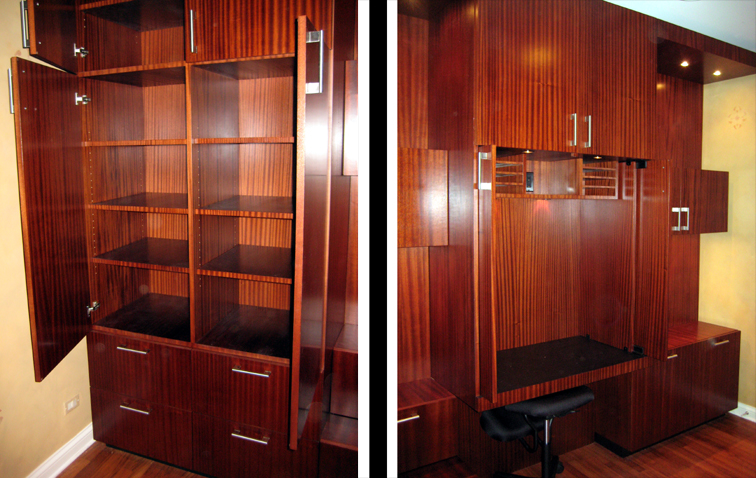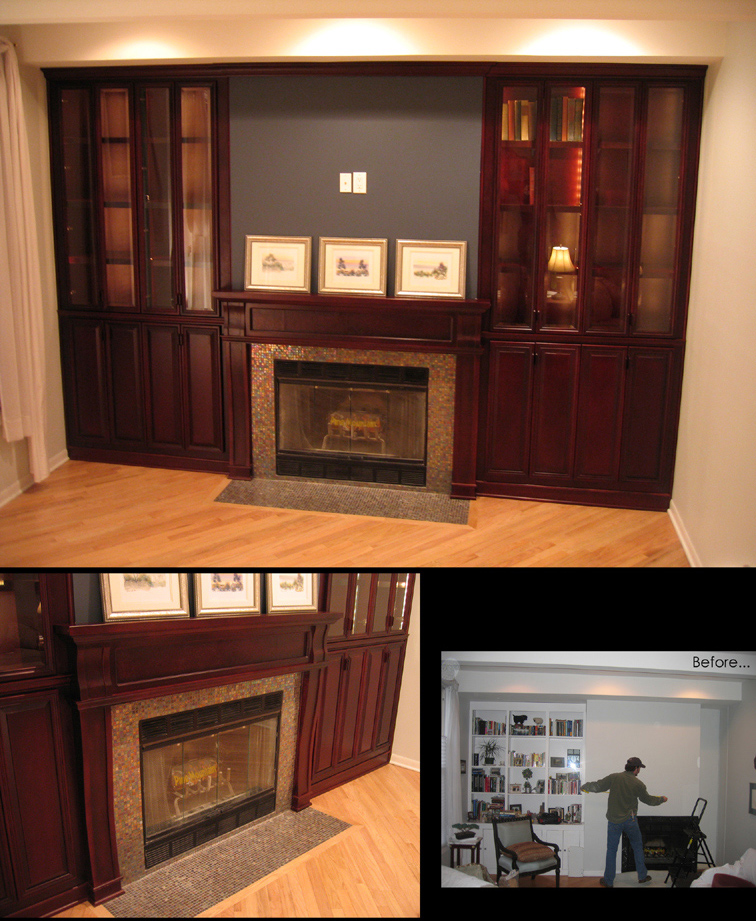 Fireplace was moved to center of wall...see inset photo. Upper cabinets on right side are different depths to accomodate new fireplace vent. All upper cabinets have full side lighting activated by a hidden touch pad. The lower right cabinet has speaker returns from Bose ceiling speakers, as well as A/V connections for the center TV, and new electric at both locations.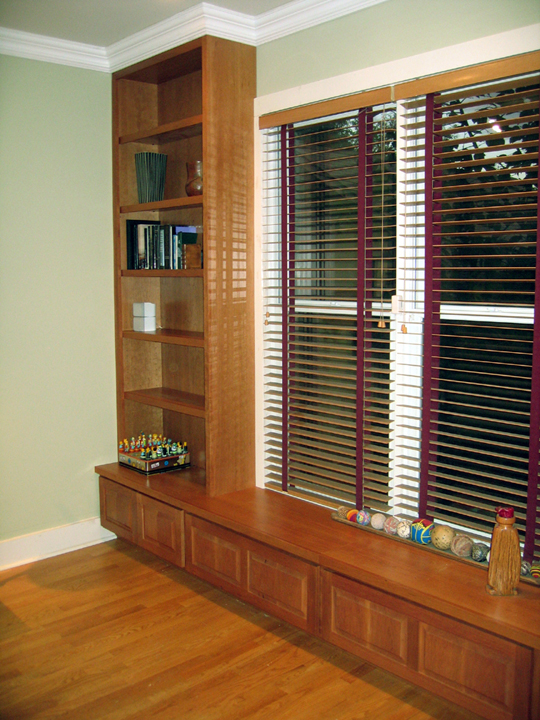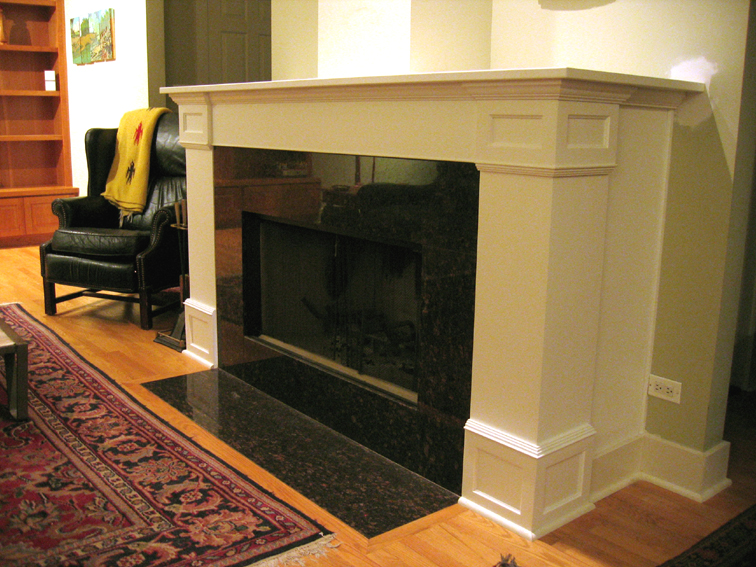 Installed new 6" crown molding to match existing. Attached with backing blocks to allow for high rise sway. Caulked and painted, one crew, one price.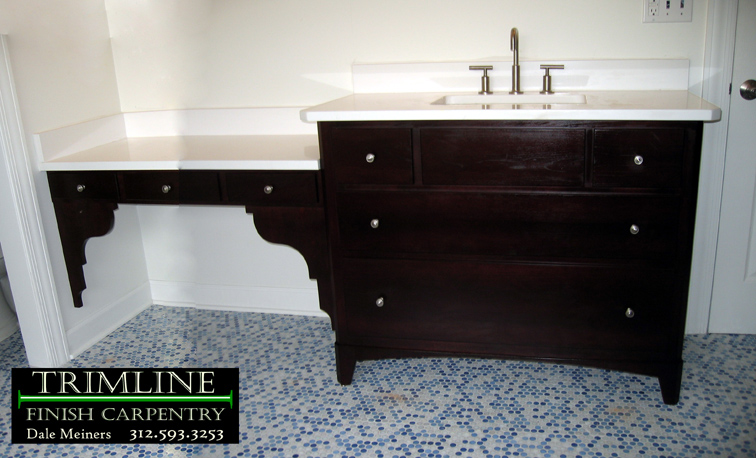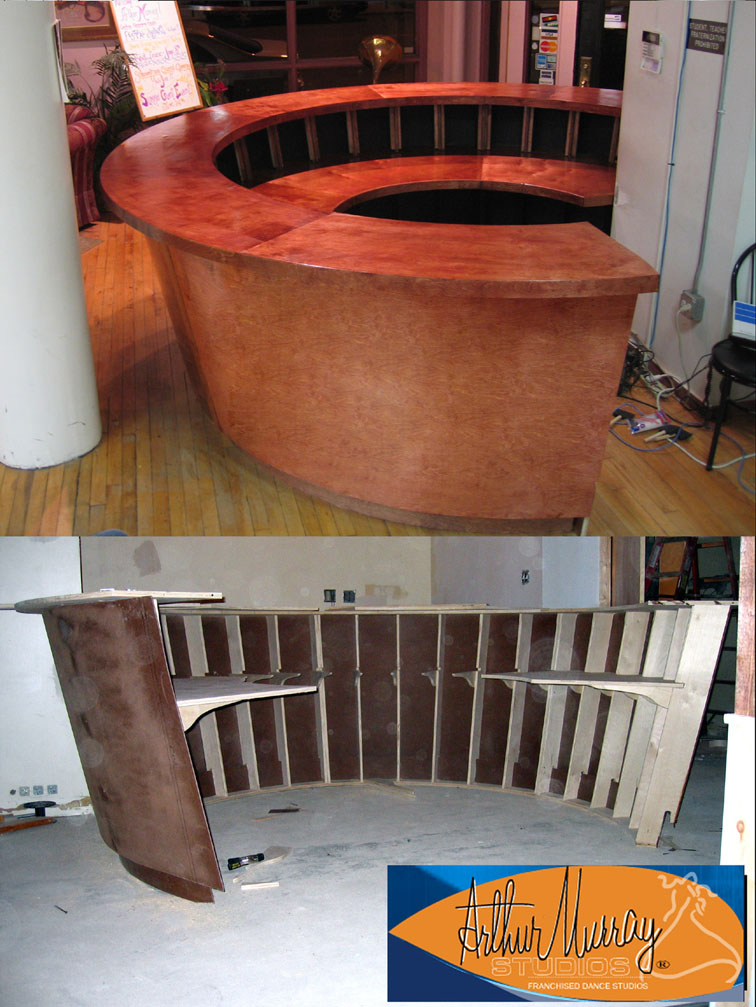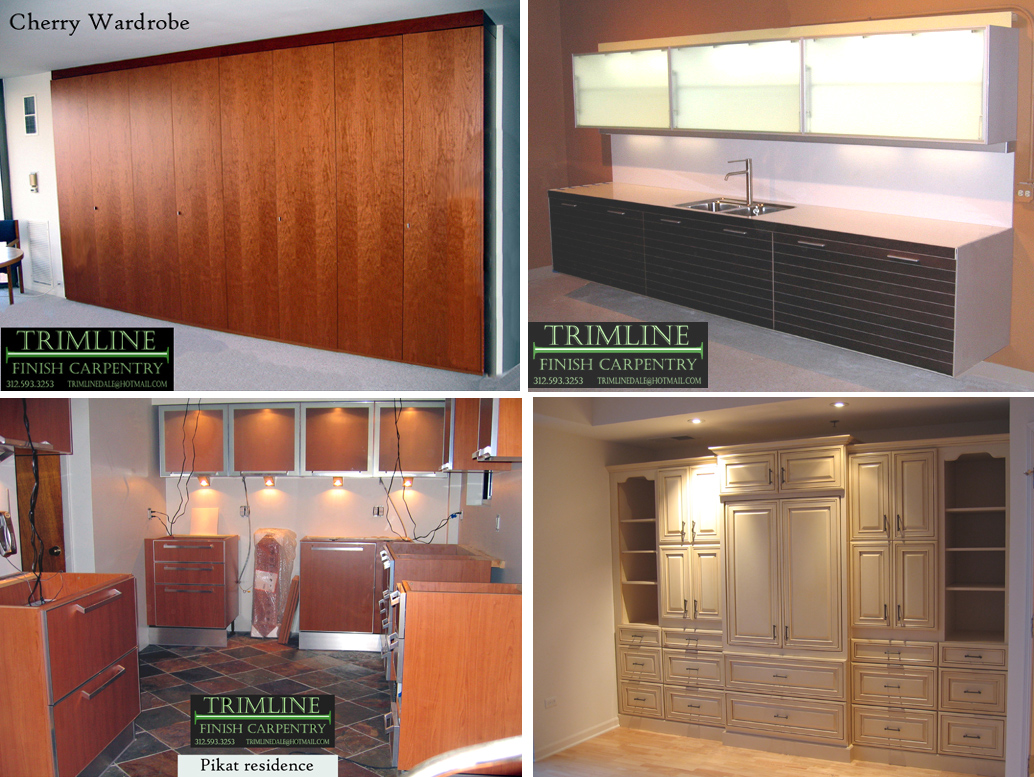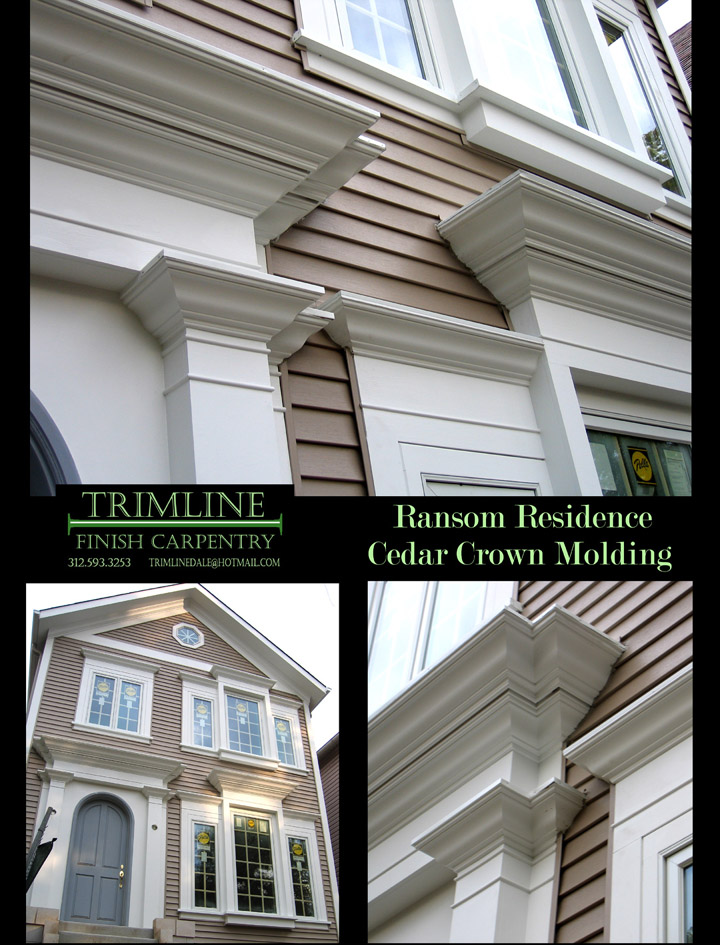 info@TrimlineCustomDesigns.com
Trimline Custom Designs inc.
3640 S. Kedzie Ave.
Chicago, IL 60632
312.593.3253
© 2014 Trimline Custom Designs Inc.