Phone: 312.593.3253. email: info@TrimlineCustomDesigns.com
Corporate Interiors
Corporate Interior for Zach Hayes Design. Reception Desk in polished Magasscar Ebony over white. Buffet in Principal's office with wine refrigerator and safe. Polished Magasscar Ebony coffee table.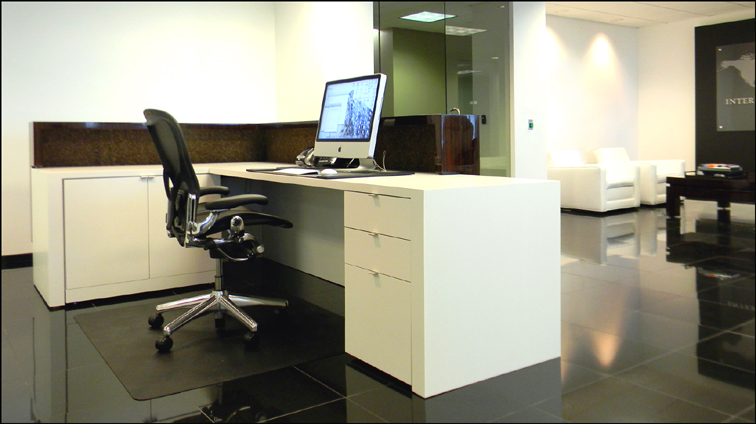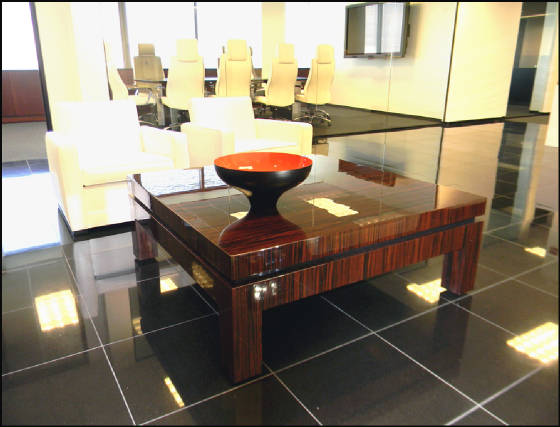 Conference Room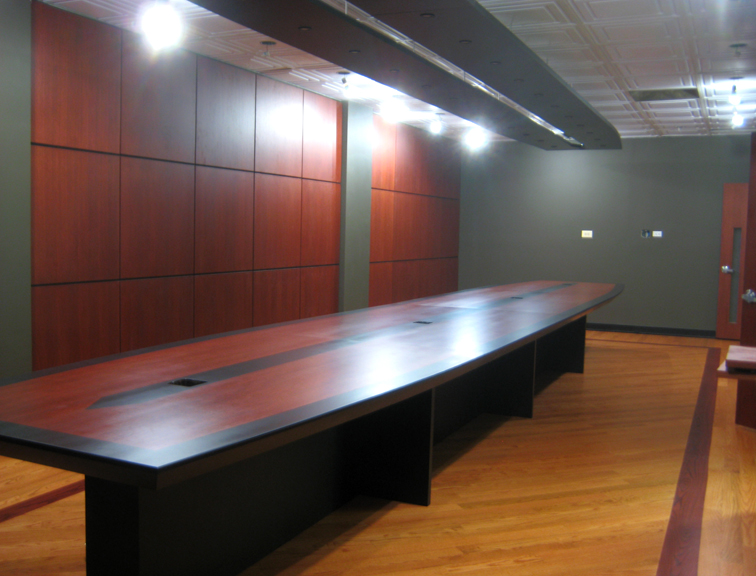 Conference Room includes 30 foot Conference Table, paneled wall, kitchen, coffee station, media cabinet, buffet, spot light canopy, custom designed doors, and black trim accents. Table sits atop ship stem which floats through the top to conceal 4 touch A/V flip panels. Black border terminates in an inverted 3" thick racetrack edge. Overhead individual spot lighting mirrors table's wood design, lifted to the ceiling. Command end of table operates entire room, including 3 lighting stages; ceiling compact flourescents, spot light canopy, under table lighting, and all Audio Video functions. Kitchen is ready for catering with dual warming drawers, Miele in cabinet expresso machine and undercabinet lighting.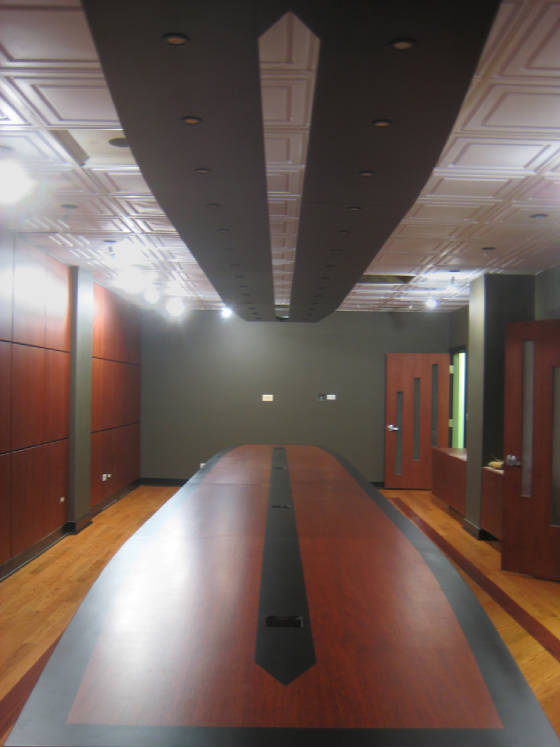 Prysm Nightclub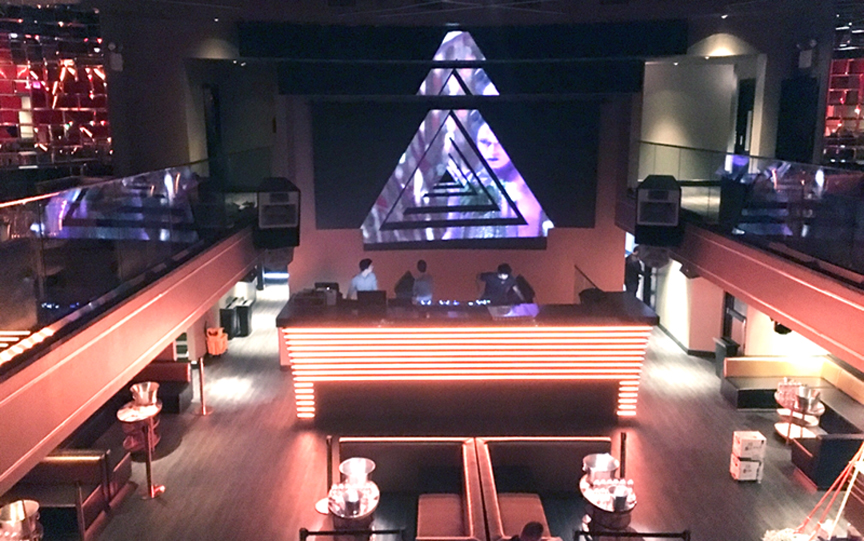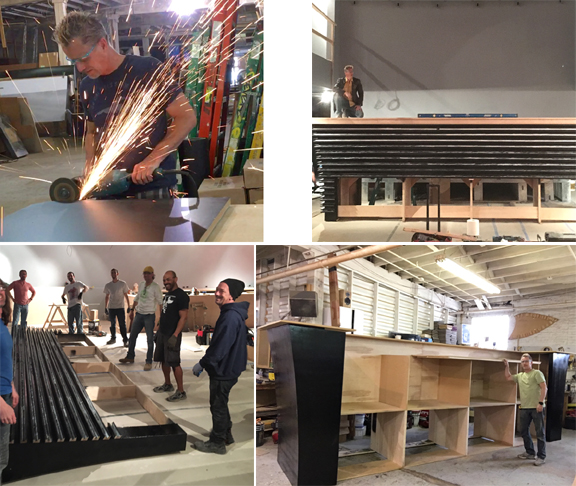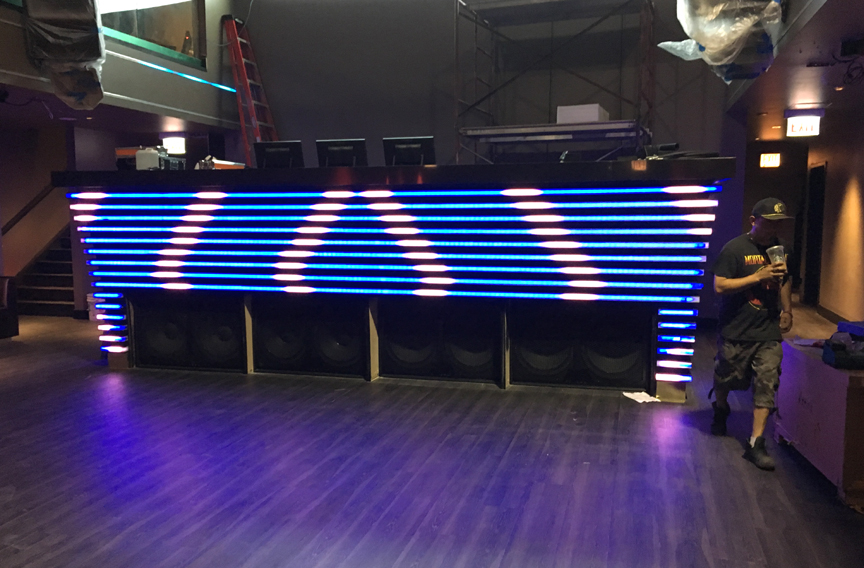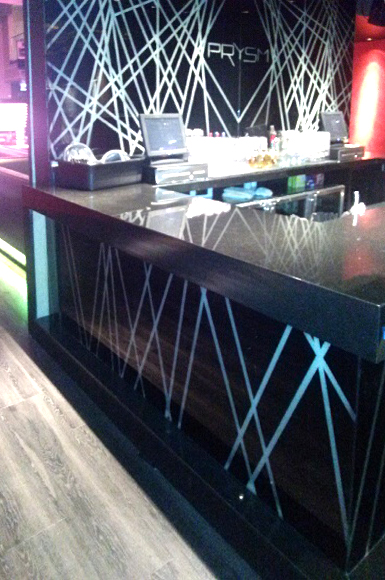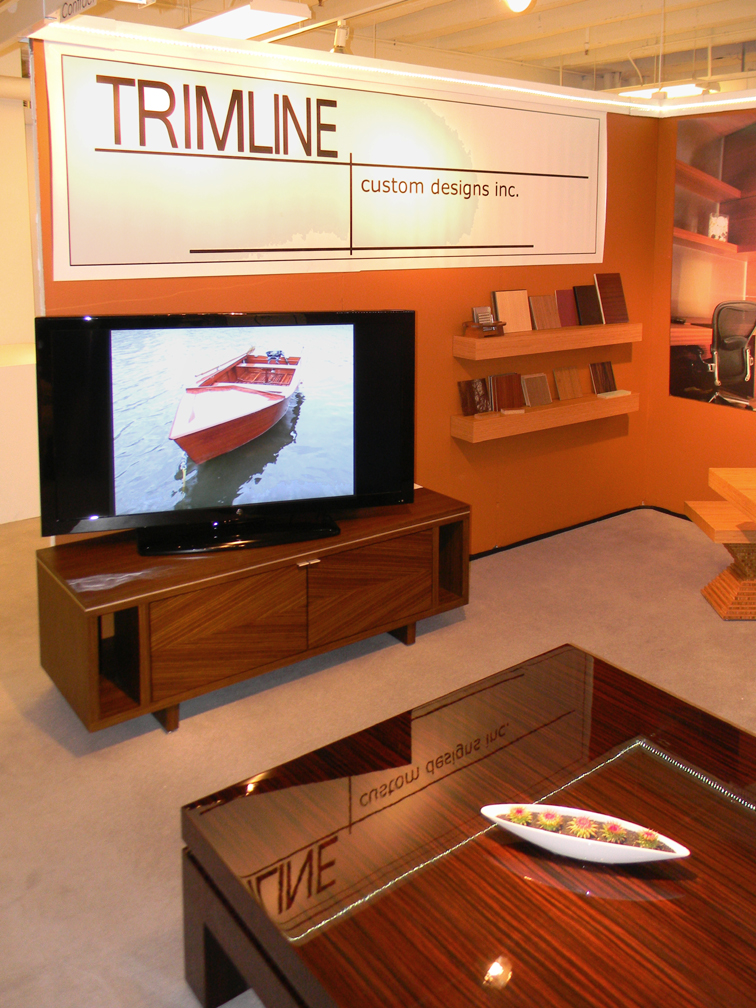 Trimline's Trade Show exhibit at Neocon 2011.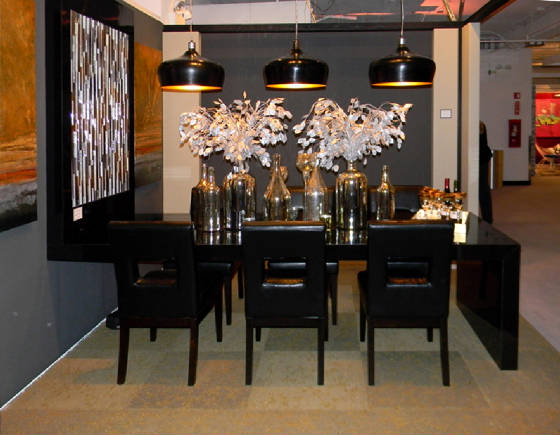 Merchandise Mart DIFFA Event for Loren Stanton Interiors.
Aluminum Kitchen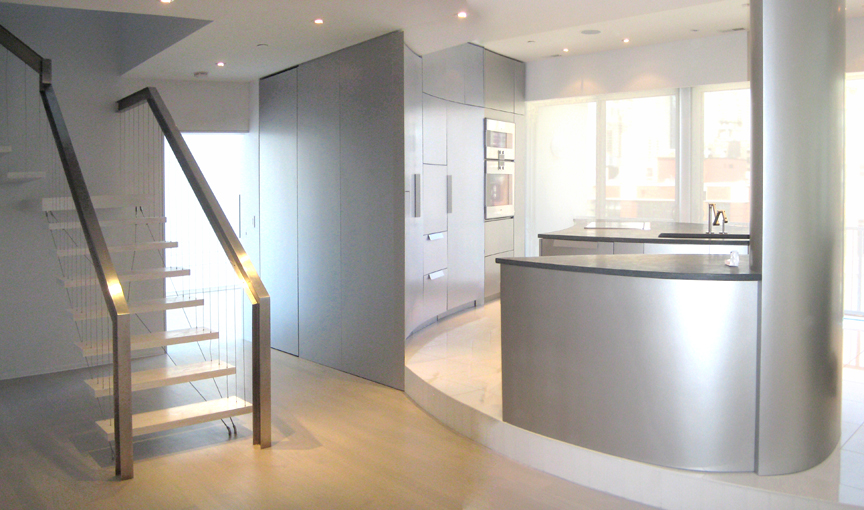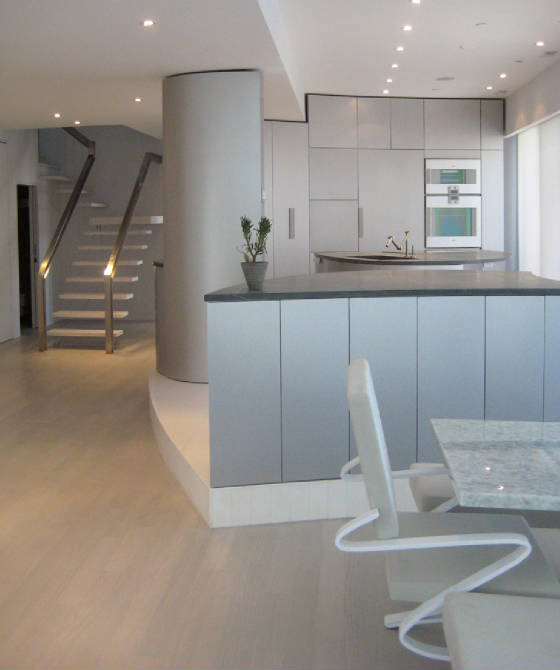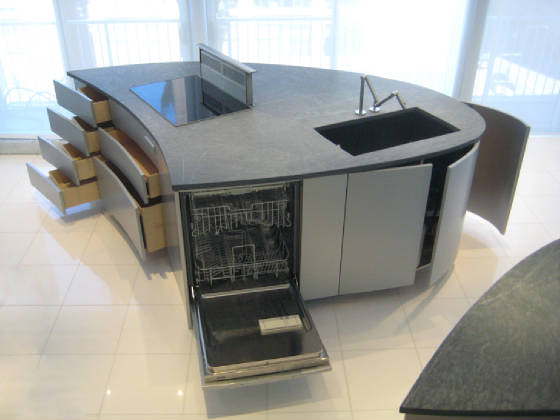 For additional images and description, see Prototype Mettalic Kitchen tab.
Master Bathroom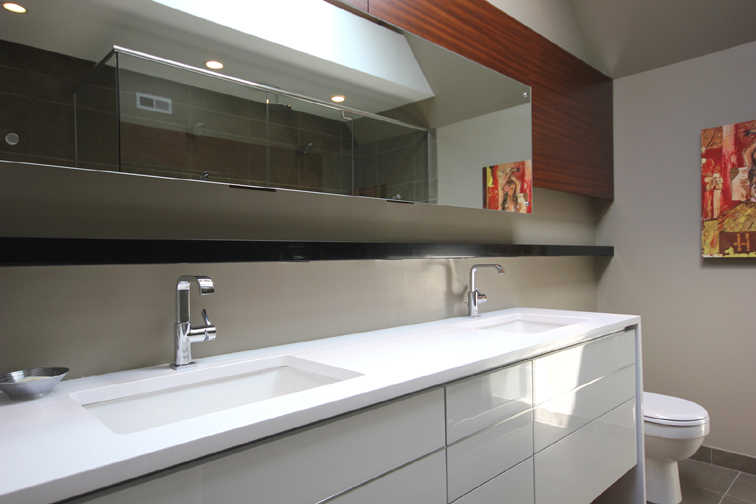 Master Bath in mirror polished pure white, Sapele Mahogany and Aluminum. Master Vanity and Shower Vanity in polished white with Aluminum band, 2 Sapele doors with Aluminum inlay on Sliding tracks, Sapele Panel behind mirror. For Katheryn Cherne at Design Inside. Photos by Bill Cherne.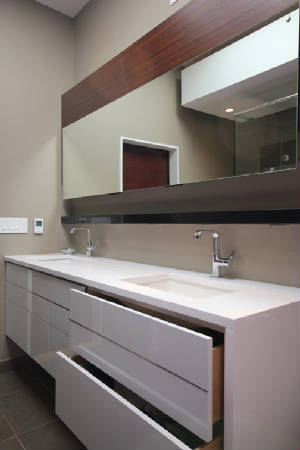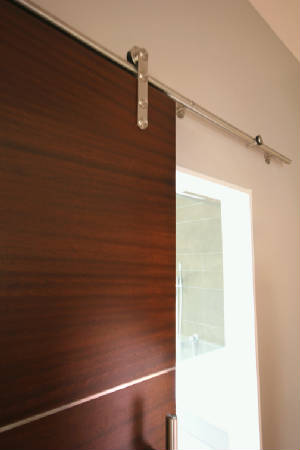 Entertainment Systems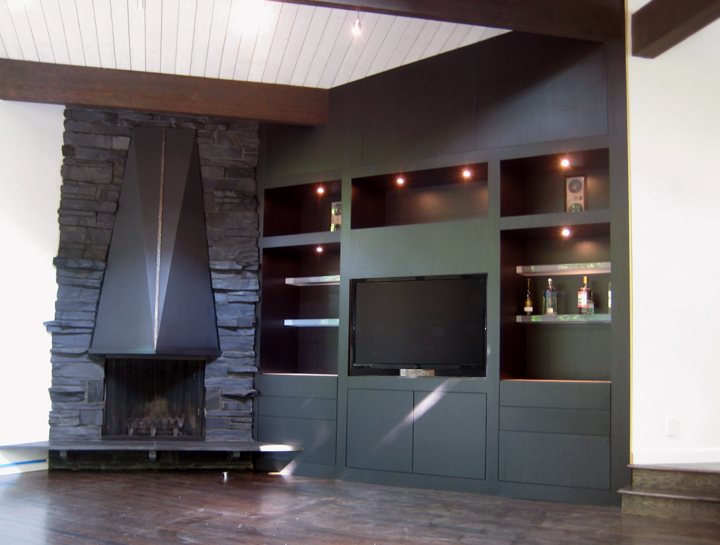 Custom Entertainment System with integrated bar. In vertical rift Ebony, with 2" Lucite shelving, and 3 stages of dimmable lighting. Granite counters. Touch latch doors for components beneath TV, 15" drawer beneath bar for large bottles, small drawer above. Drawer and subwoofer storage on left.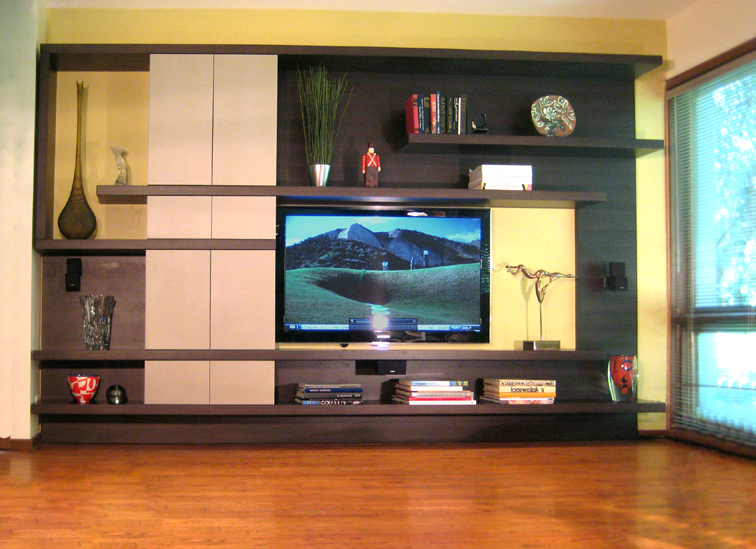 Lacquered cabinets captured by Zebrawood shelving, stained grey. For Eva Landsman at 51 Elements.
Home Offices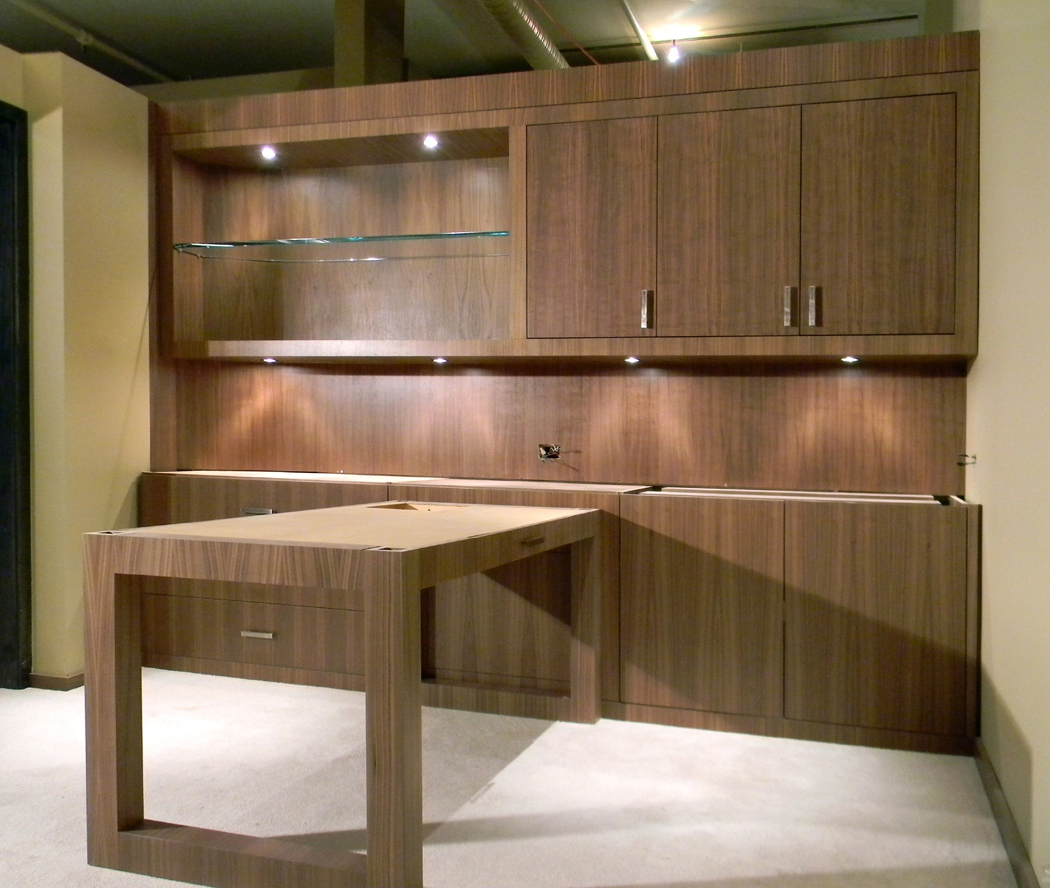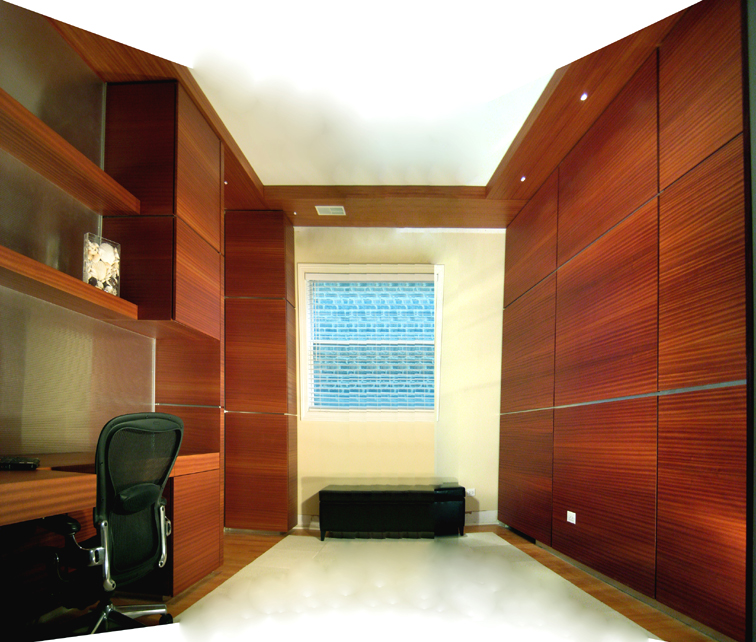 Home Office in architectural grade Sapele Mahogany. 32 panels over brushed stainless. 3 large cabinets, light boxes at ceiling, floating desk, 2 floating shelves, and desk surround framed with stainless behind plexi. Cable management and low voltage lighting routed through desk interior. Thick desk conceals 2 drawers.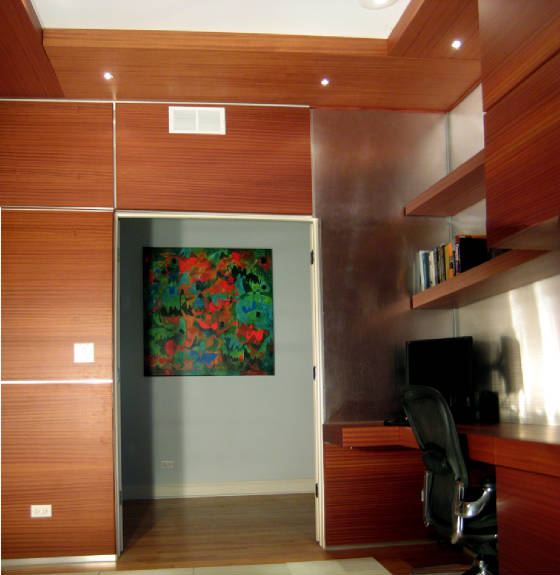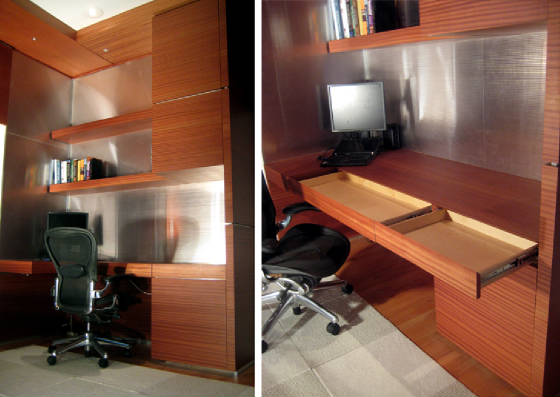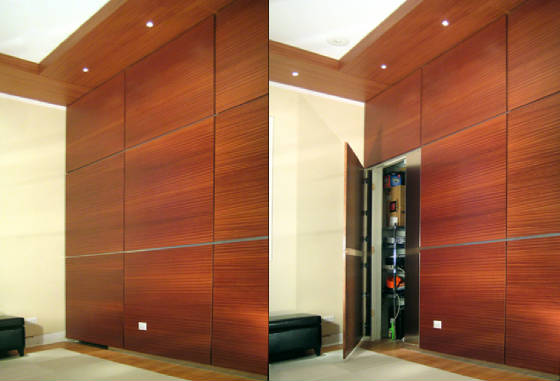 Left most panels conceal the closet, accessed via touch latch.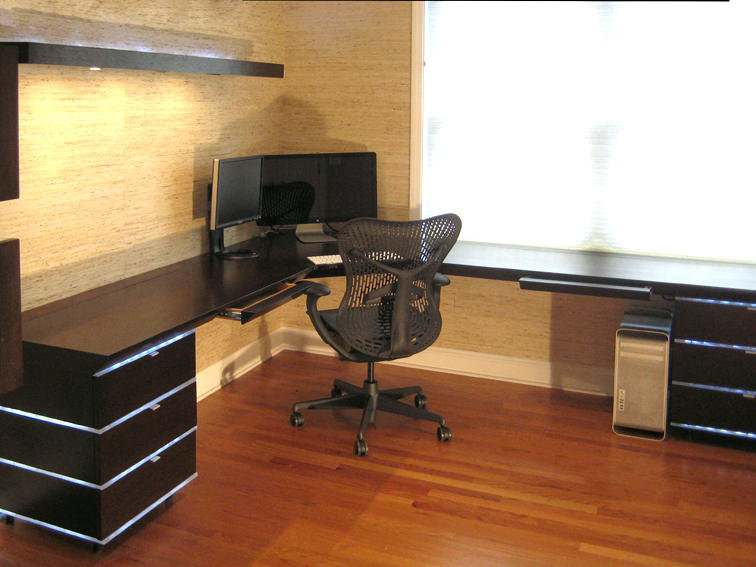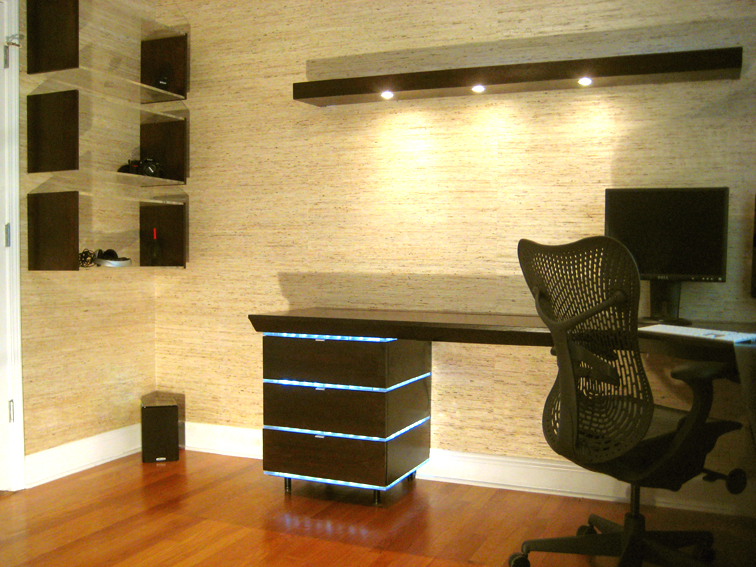 Home office in rift white oak stained mocha. Desk has 2 pen drawers cut in the beveled counter. 2 cabinets are drawers stacked between layers of plexiglas lit with LED's. Upper floating shelf has puc task lighting, and upper LED's for display. Cable management throughout back of desk provides an easy clean cable solution. 3 cube shelves have wood sides, and plexiglas horizontals.
Living Rooms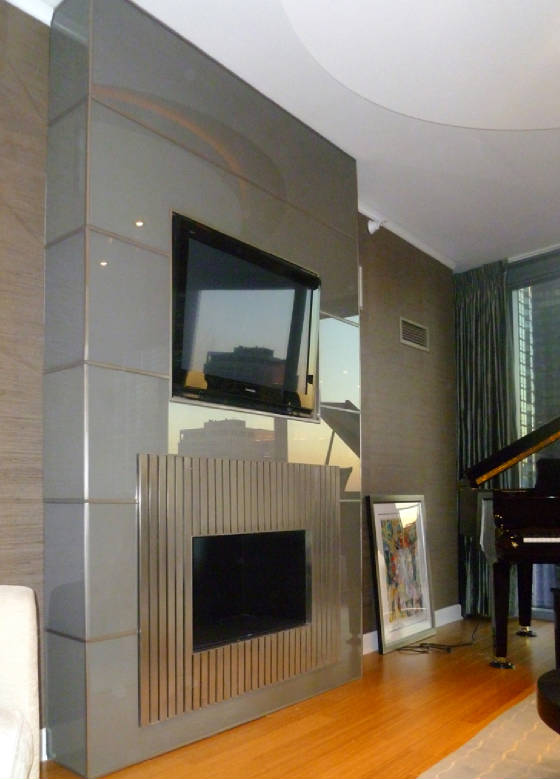 Fireplace surround in backpainted glass with nickel plated bands. Ceiling domes with task lighting, and ambient spill lighting. For Zach Hayes Design.
Master Bedroom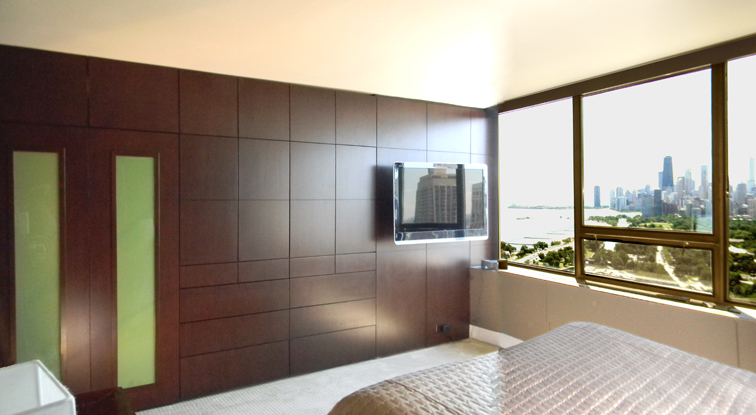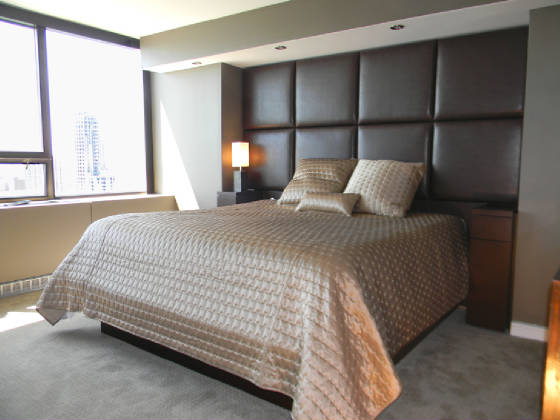 Wall System, Bed, bedside tables, and leather headboard with additional storage behind. For Katheryn Cherne of Design Inside.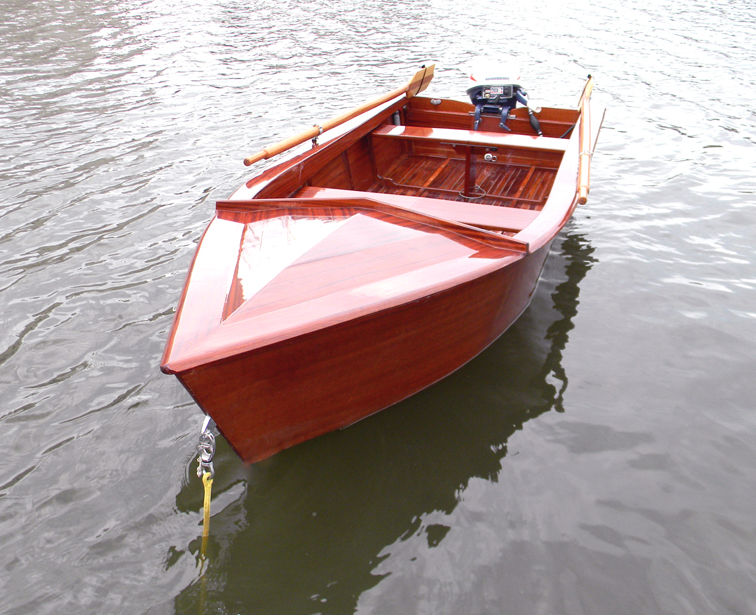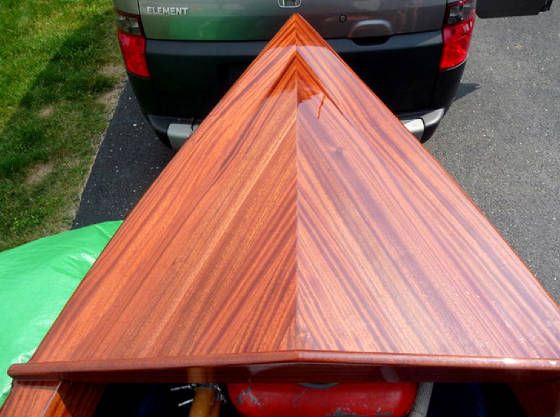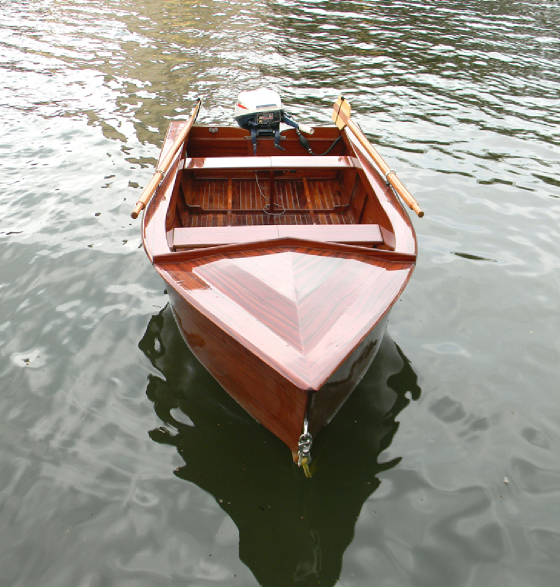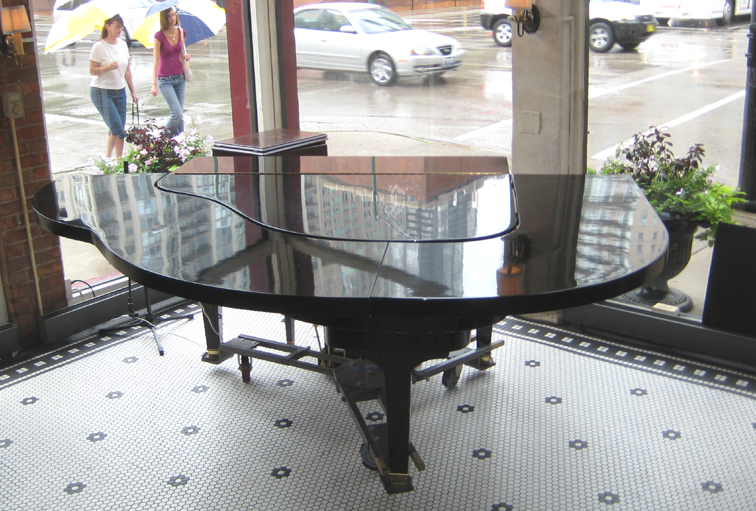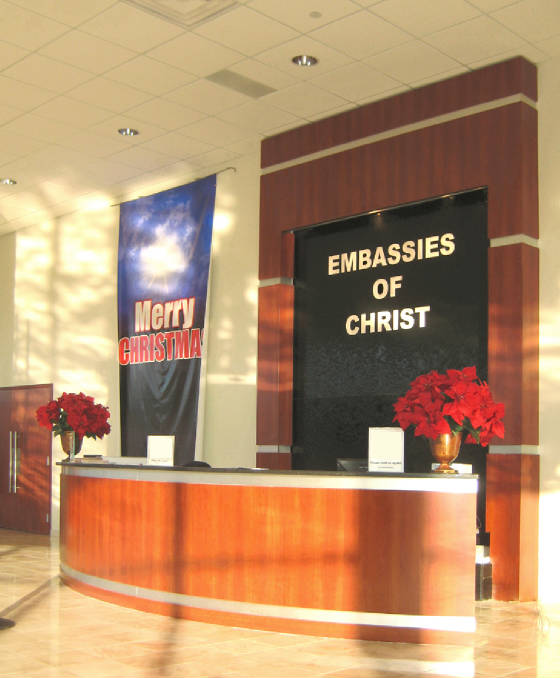 Concierge desk and waterfall surround. Desk is 15' long at a gentle radius. Dual granite counters sit atop a metal substructure which allows computer monitors to sit between the inner desktop and taller approach counter. Desk interior has locking drawers and cabinets for storage. Waterfall surround was erected without visible hardware. Sections were hung seperately, seperated by metal straps. The upper section took 6 guys and 6 stages of scaffolding to lift into final position.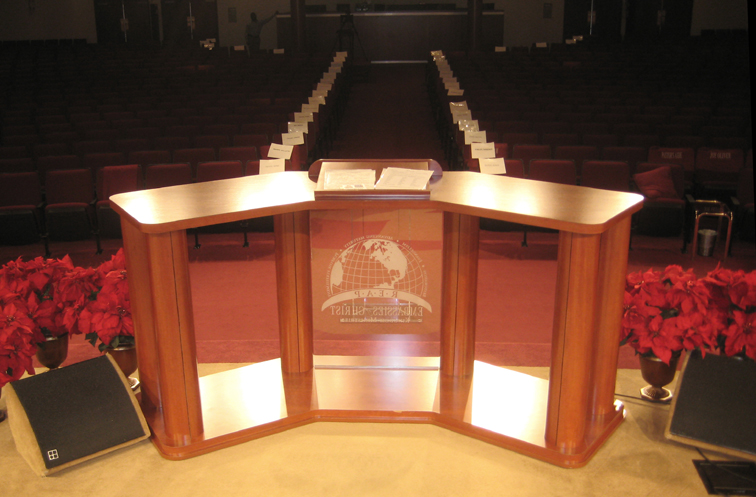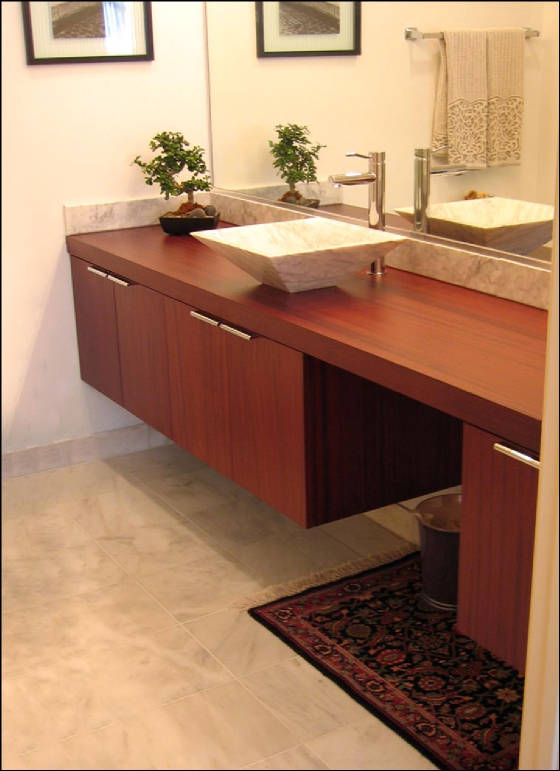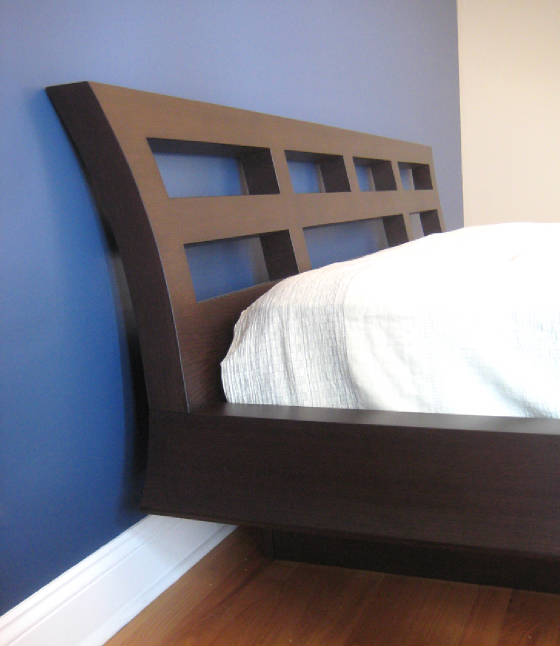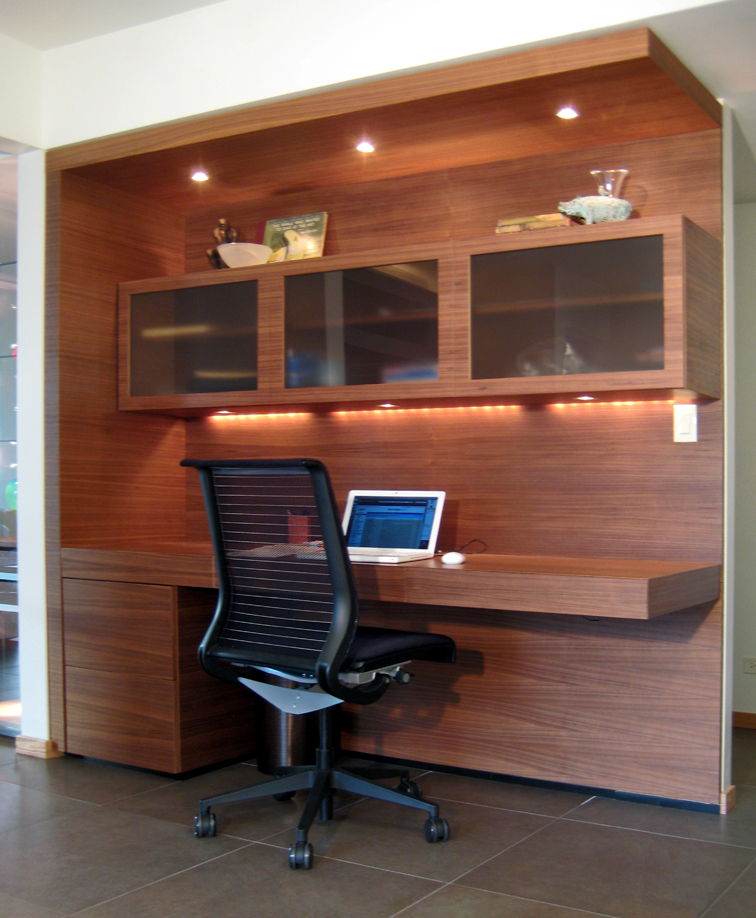 Home Office in horizontal Rift Walnut. 3 stages of lighting include upper low voltage pins for display, low voltage pins in cabinet provide task lighting, and ambient bars spill onto panels. Lighting dimmers and cable management contained in desk interior. Upper cabinets with bronze glass captured in solid walnut frames, yet bookmatched with horizontal walnut to flow with the entire piece.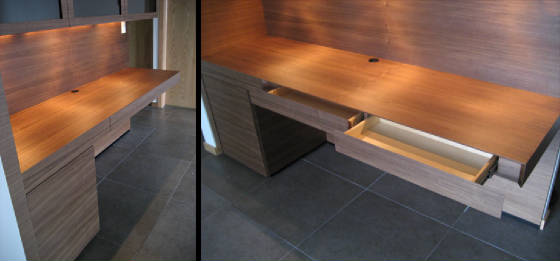 Cantilevered desk supported by 2x22x36 metal box section anchored into wall.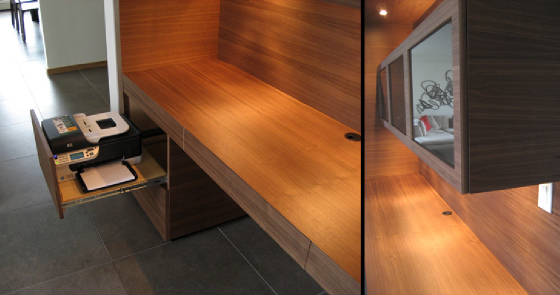 Upper drawer modified for printer access. Lower drawer is pentiflex ready.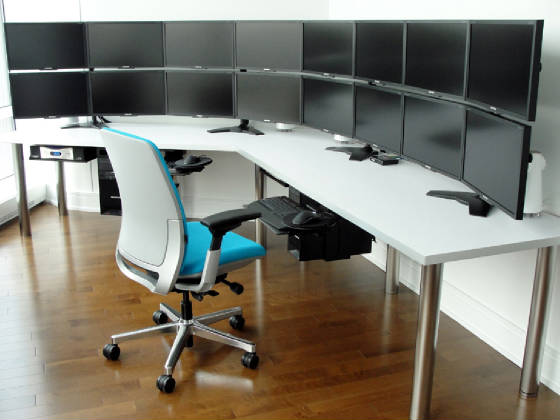 Trading Station in Trump Tower.
Media Cabinets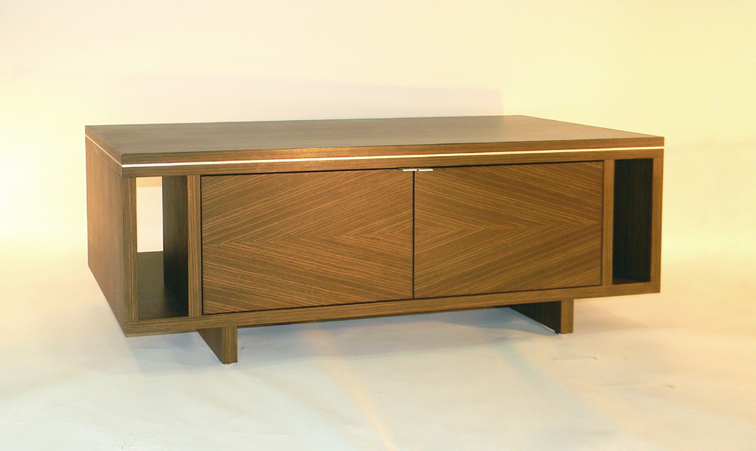 In dark green Zebrawood.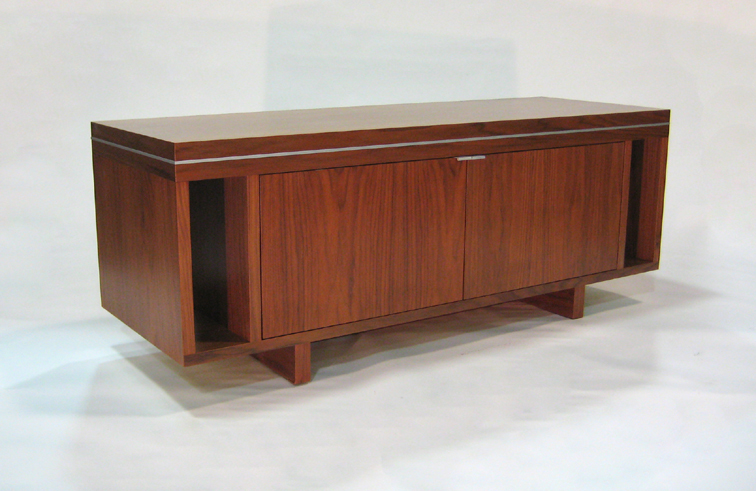 In Orange dyed Walnut.. 58" wide x 22" tall x 20" deep.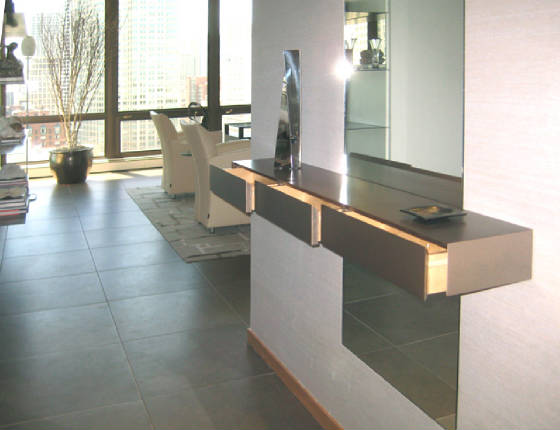 Floating 3 drawer shelf. In custom Bronze / Black metal flake finish. Mitered doors create a seamless object.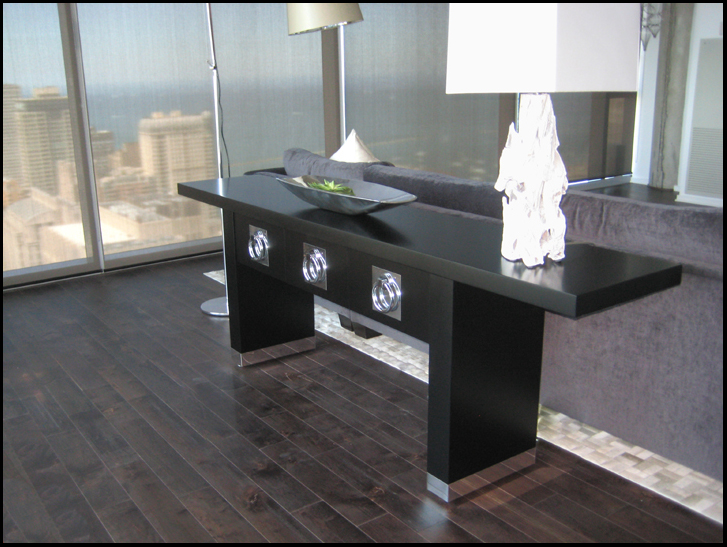 Buffet designed by LeAnn Dahl. In satin finish with polished chrome accents. Pneumatic flip down storage.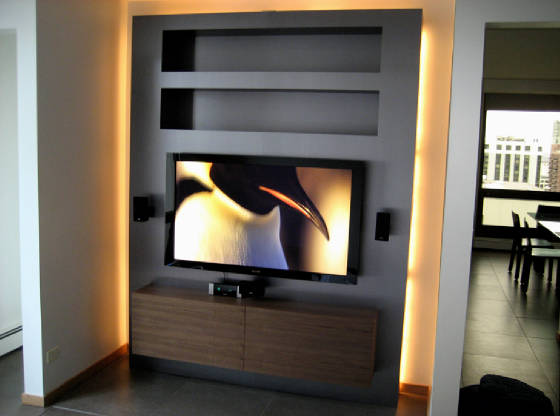 Entertainment System in smoked brushed stainless with walnut credenza. Backlighting accesed from switch on side of piece. Walnut credenza passes through face to achieve component, laptop, and subwoofer storage. Mitered doors open via touch latch for a seamless apearance. Recessed upper shelves for display.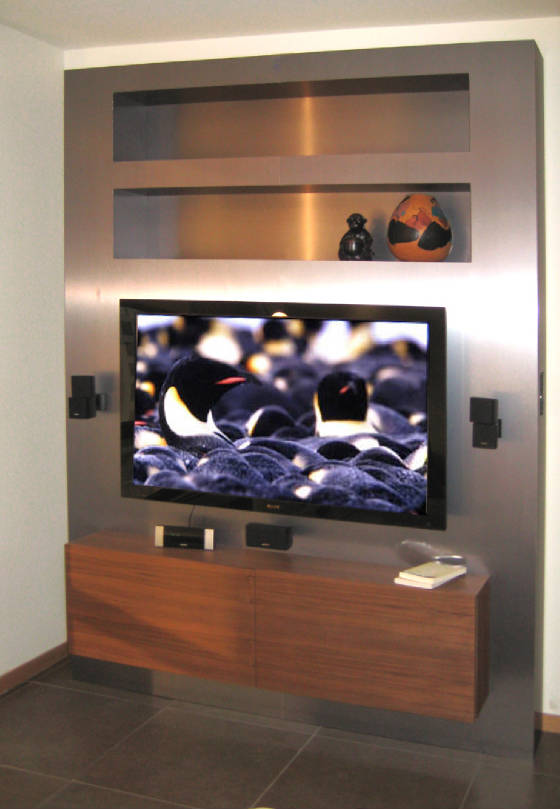 Bookmatched face with mitered door detail.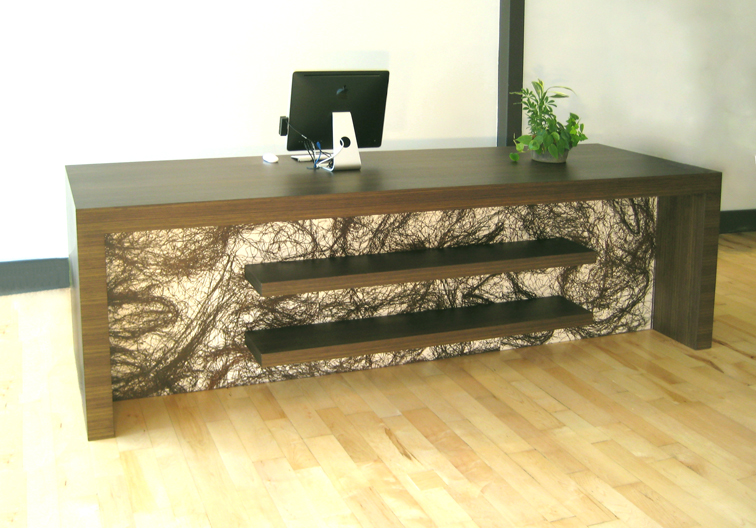 Fix Boutique Cash Wrap designed by Michael Freiburger. In custom green stained reconstituted Zebra Veneer. Captured moss Acrylic lit panel behind 2 cantilevered display shelves. Desk interior is completely wired, and location specific.
Suspended bed designed by Robert Bernstein, NYC. In powdercoated metal wrapped in leather with mirror polished mitered touch latch drawers.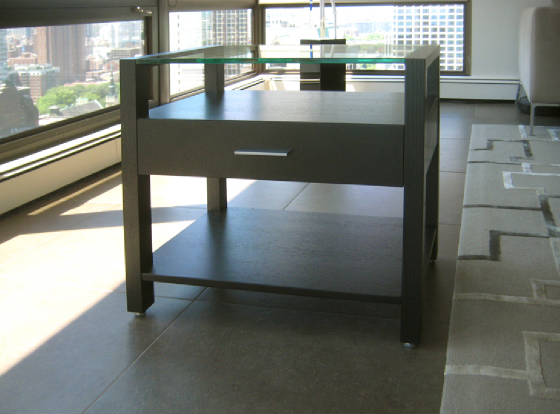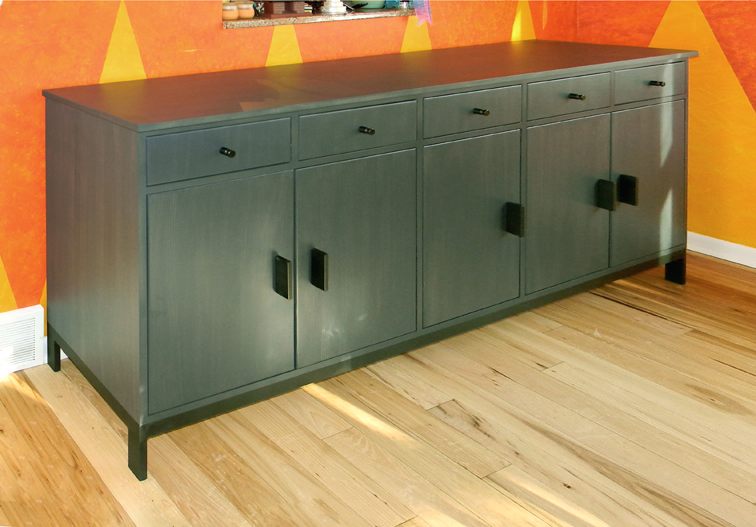 Custom finish for Crate and Barrel.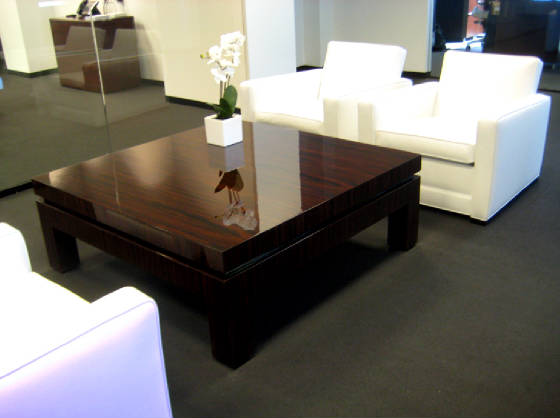 Magasscar Ebony Coffee table designed by Zach Hayes. In mirror polished, hi-gloss automotive finish.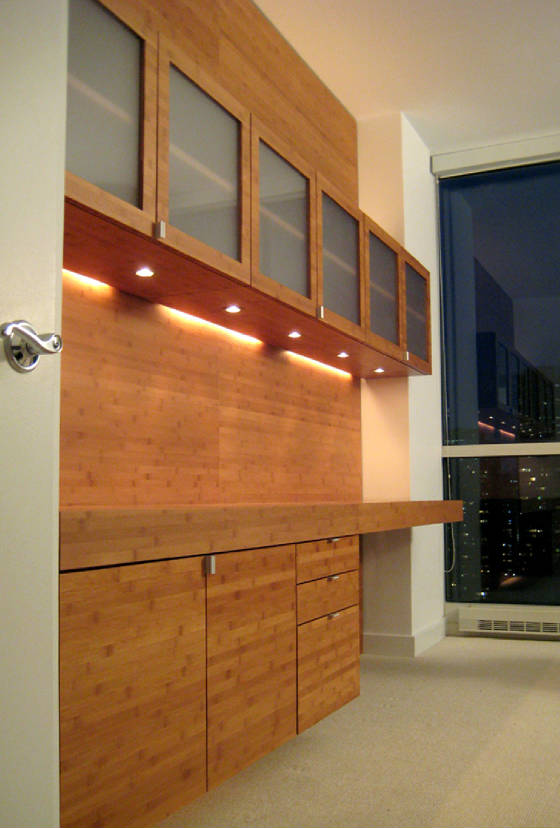 Home office in the Pearson. Cabinets and drawer stack cantilevered on panels with horizontal grain pulls your site to the beautiful view. Soft stop, pneumatic hardware, low voltage task lighting, and recessed ambients set any mood you like. Lighting controls and fasteners are concealed for a calm look and feel.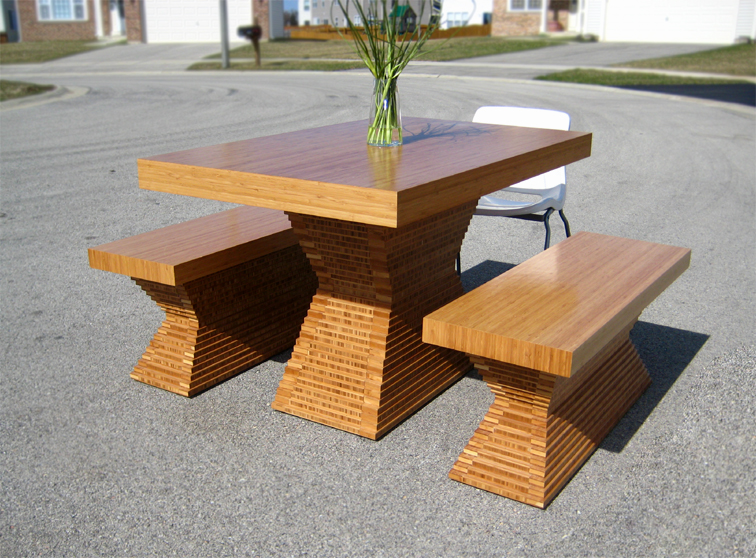 Bamboo Vertical/Caramelized Table. Interesting and complex from a distance, soothing while seated. Intimate at 30x48 with a slightly reduced height of 28 1\2. Very HEAVY. -featured in CS Interiors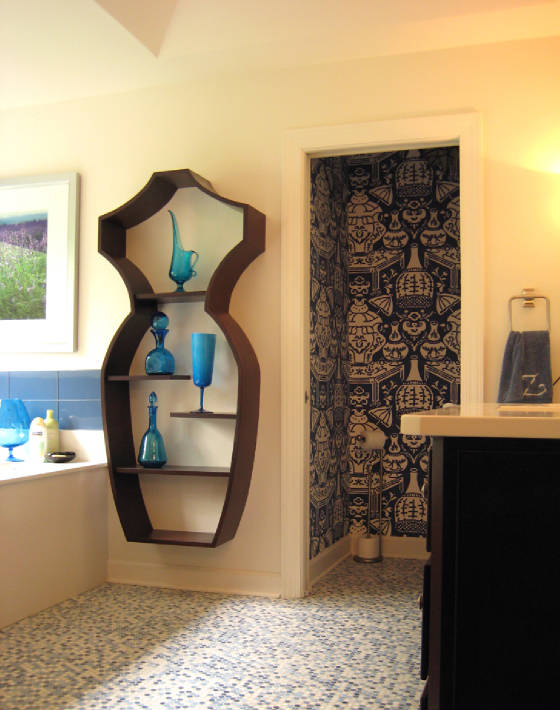 Bodice shelf for blue blenko vase collection designed by Madeline Roth. In curved cherry. Backless and cantilevered produces a terrific floating effect.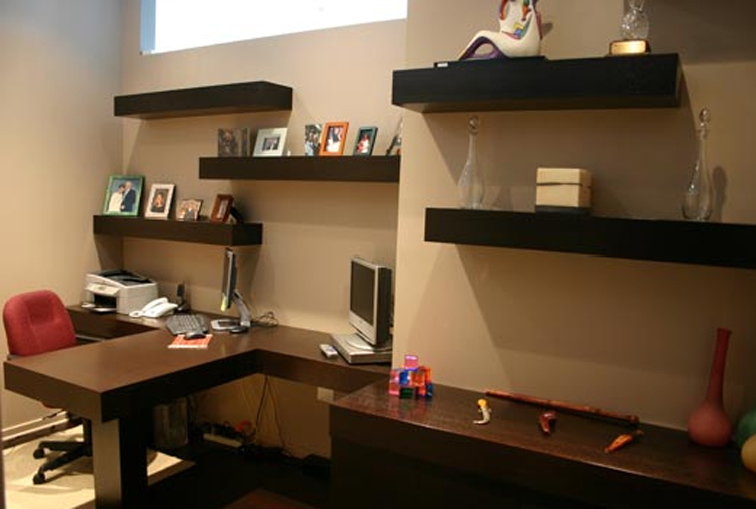 Mocha office includes random 5" chunky shelves, "T" desk with his and hers workspace, dual pen drawers, flowing counter top, double cabinet with adjustable shelves, and solid oak leg.
Bookstore Desk in Biltmore Cherry laminate with brushed stainless inlays. Interior is finished and has locking 3 drawer cabinet and plenty of storage.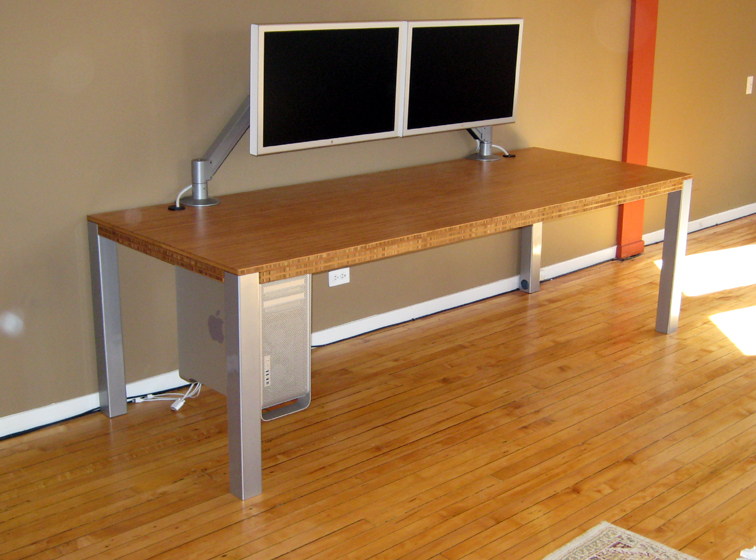 Caramelized bamboo 2 1/4" thick, atop metal structure with 3" square legs. Color matched, 'mac' grey. Cord escapes run through rear legs. Adjustable monitor arms, and tower hanger. -available on the 'for sale' page.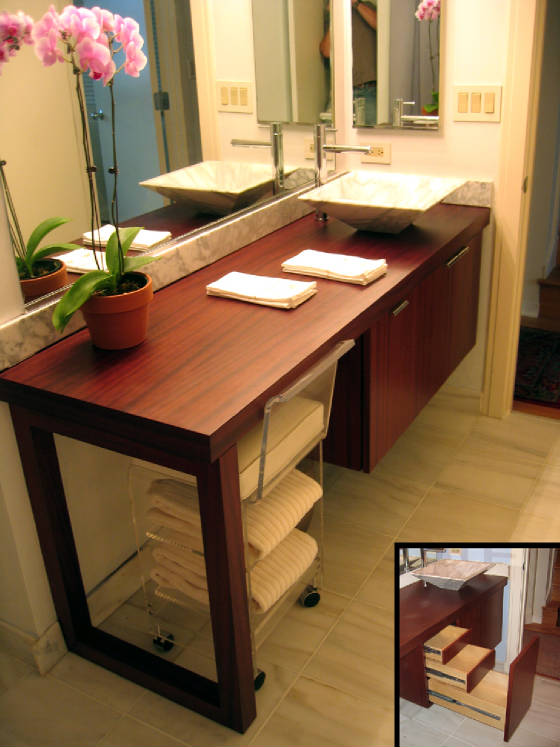 1/4 Sawn African Mahagony vanity. Finished in Ialian ICA 2 part polyurethane on six sides for underwater durability. 3 drawers behind a single drawer front, offer a clean look. -as seen in Chicago Home Interiors Magazine.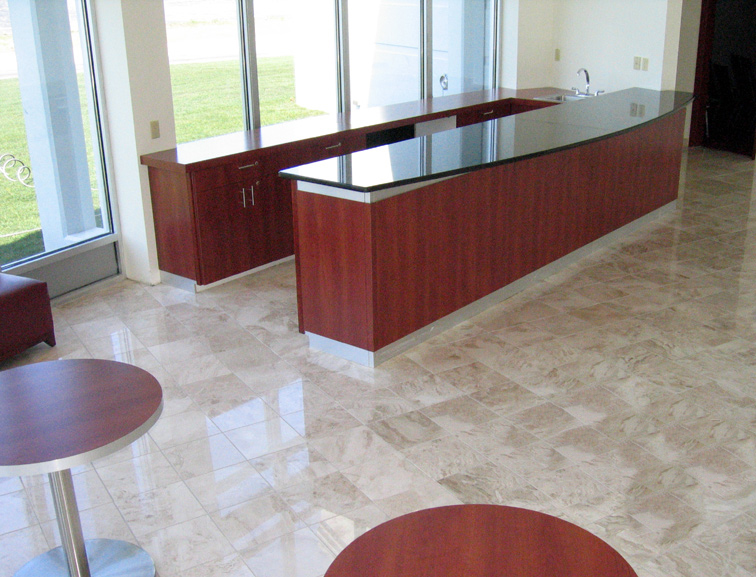 Cafe of Cherry laminate and Black Granite counter with sink, coolers, finished exterior, locking doors and drawers.
Bookstore shelving with locking full extension drawers and adjustable shelves.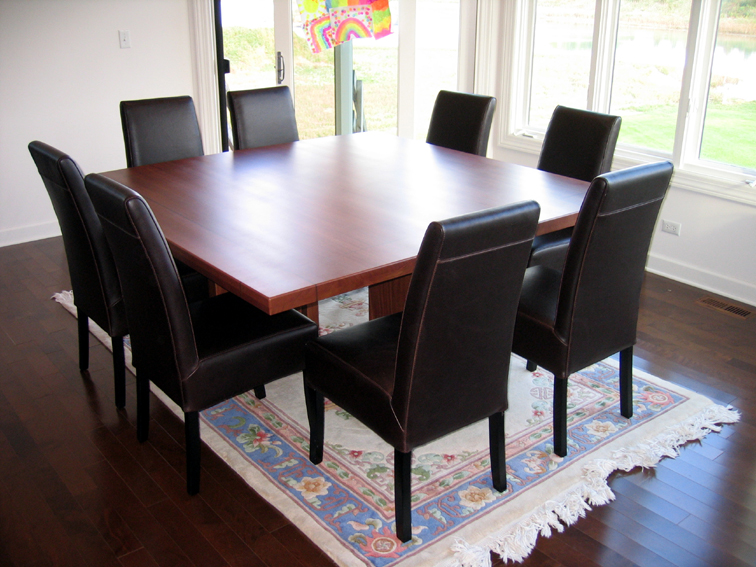 68" dining table of Mahagony with Walnut inlay. No electric, no metal, no man made substrate... this used to be a tree! Ok, we screwed it together, and good thing, because it's extremely heavy!